Quebec has never made it to the top of the worst places to live in Canada. However, it has not been safe from criminality.  Living in a modern world, we have been exposed to cyber criminals and fraudsters.  Fire, carbon monoxide poisoning, and burglaries are very real threats that put our property and our lives at risk.
The latest data from Statistics Canada presents a picture of Quebec province in 2016.  The figures were culled from police precincts from all regions.  We used the most populated areas to balance the results of this research.
In 2016, Quebec Province's Crime Severity Index is 54.73. Canada's overall Crime Severity Index is 70.96, demonstrating that Quebec is safer than most places in Canada.
The crime rate is calculated by measuring the number of criminal offenses committed by a sample population of 100,000.  It is for this reason that small towns and less populous cities were removed from the list.
3 Home Protection Quotes helps you to compare prices of home alarm systems based on your needs.
Fill-out our online request form to receive 3 home alarm quotes tailored to your needs, free of charge.
Without further delay, below are the results.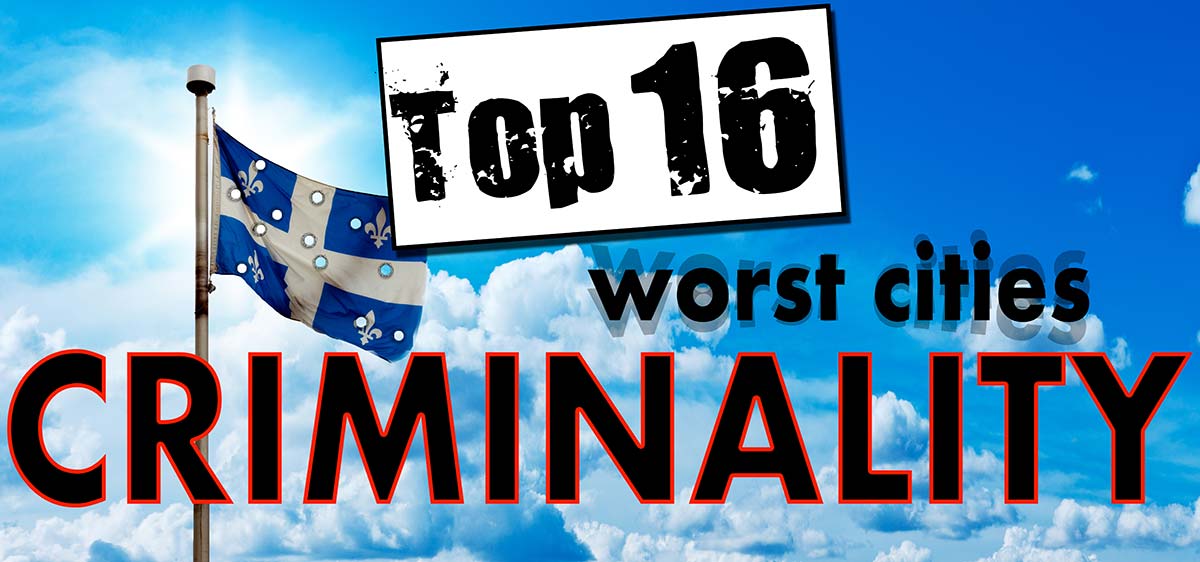 16 Worst Crime Locations in Quebec in 2016
(From the safest to the most dangerous place)

Crime rate: 2,453.2 / 100,000 inhabitants
Crime Severity Index: 35.54
Number of Inhabitants: 50,575
Since 1998, Mirabel's crime rate has gone down drastically. From a previous rating of 5,228.86 some 18 years ago, we now see an improvement by 54%, which is short of miraculous. From our list, Mirabel wins hands down as the safest place.
Since 2014, the city of Mirabel has made available a very convenient online form that allows its residents to communicate directly with the police.  Of course, in case of emergencies, dial 9-1-1.

Crime rate: 2,783.64 / 100,000 inhabitants
Crime Severity Index: 30.90
Number of inhabitants: 145,474
Here is a city that has exerted much effort to bring down its crime rate. 10 years ago, it had a crime rate of 3,943.03, its worst year for criminal offenses.  Today, it ranks 2nd among the safest places in Quebec.
In case of prolonged absence from your home, the city of Levis advises residents to take the following precautions:
▸ Inform neighbors that you are going away for a while
▸ Request someone to clear your entrance
▸ Avoid announcing your departure in social networks.
▸ Program an electronic timer to open and close your lights.

Crime rate: 2,909.44 / 100,000 inhabitants
Crime Severity Index: 28.93
Number of inhabitants: 84,156
Twenty years ago, Repentigny had twice its current crime. The city's progress is remarkable. We laud the police for its efforts and services to the city.
Regulation requires the owner of a residential alarm to register with the Public Safety Department within one month of installation.  You can fill-out the Repentigny Alarm Registration Form to comply with this requirement.

Crime rate: 3,048.96 / 100,000 inhabitants
Crime Severity Index: 40.81
Number of inhabitants: 113,575
Almost 20 years ago, Terrebonne was inundated by crime with a crime rate of 6,747.49! Today, it is one of the best places in Quebec.  In 2013 alone, there has been almost 19% improvement in its crime rate which has propelled it to the top of this list.
Visit Terrebonne's official website for many useful and interesting links to the city. Mobile apps for interacting with the police as well as apps to prevent texting while driving are downloadable.

Crime rate: 3,401.03 / 100,000 inhabitants
Crime Severity Index: 54.73
Number of inhabitants: 49,197
The Youth Program launched by the SQ of Rimouski-Neigette helps young people from primary to university level affected by these issues:
▸ Violence
▸ Gangs
▸ Bullying
▸ Cybercrime
▸ Criminal harassment
▸ Road Safety
This program ensures increased police visibility in areas frequented by the youth.  The importance of communication between students and stakeholders is also put forward.

Crime rate: 3,580.47 / 100,000 inhabitants
Crime Severity Index: 47.93
Number of inhabitants: 430 077
The city of Laval has improved its crime rate by about 5% per year for the last 10 years. The Laval Police Twitter Account is available to the public. 6 neighborhood stations answer questions from residents and also offer these services:
▸ Information about the Criminal Code
▸ Information about municipal by-laws
▸ Helps regarding a loved one
▸ Informs about police ethics
▸ Gives community profile
▸ Referrals to municipal services
▸ Referral to support services for domestic violence, addiction, etc.

Crime rate: 3,723.98 / 100,000 inhabitants
Crime Severity Index: 49.66
Number of inhabitants: 246,152
Fifteen years ago, Longueuil had a crime rate of 7,077.07. In the last eight years, it continues to improve and although it still has some way to go, Longueuil is making progress.
Operation Good Foot, Good Eye, set up by the police department of the Longueuil agglomeration, tries to sensitize the population on vigilance and courtesy regarding road regulations. This campaign will stretch over 3 years during which police will provide drivers and pedestrians with information sheets that indicate the dangers of not respecting signals at intersections and pedestrian crossings.
After the campaign period has passed, reports of offenses will be given to offenders. Get ready to see the slogan "By the way, we're watching!" frequently and everywhere in Longueuil.

Crime rate: 4,070.05 / 100,000 inhabitants
Crime Severity Index: 54.73
Number of inhabitants: 585,485
For a metropolis of this size, Quebec City has fitting statistics. On the other hand, in 2016, it has decreased by 4% and its crime rate seems to have stagnated for almost 7 years. Serving a population as significant as this remains a daunting task. The Quebec City Police Service received the Recognition Award from the Mental Health Commission of Canada for implementing the « Resilience in Mental Health » training program.
In our internet-connected world, the SPVQ has decided to make a media leap by sharing videos of police work on the ground.
In order to achieve its performance objectives, Police Services is part of the city's strategic approach. It targets these 5 areas of performance:
▸ Partner Employees
▸ Health and Safety
▸ Quality
▸ Productivity
▸ Costs
A budget of $114,951,421 is devoted to the protection of more than 575,000 people in an area of ​​543 square kilometers. 693 police officers, 45 executives and 169 civilians constitute law enforcement in the metropolis.
Some criminal offenses committed on the territory of the city of Quebec in 2016:
▸ A single murder in the first degree incident
▸ 430 sexual assaults (53 more than the previous year)
▸ 2075 break-ins
▸ 47 abductions or kidnappings (an increase by 17 compared to the previous year)
▸ 5018 robberies

Crime rate: 4282.9 / 100,000 inhabitants
Crime Severity Index: 48.99
Number of inhabitants: 166,633
Sherbrooke is a little worse in terms of crime rate by half a percent compared to last year. Fifteen years ago, Sherbrooke passed the 7,000 mark in crime rates. It comes in roughly mid-pack, with an average crime severity rating and a crime rate similar to the national average.
The objective of quietude that addresses road safety in residential neighborhoods requires the reporting of motorists who have dangerous habits:
▸ If they drive too fast
▸ If they do not respect the traffic lights or mandatory stops
▸ If their driving is dangerous in general
▸ If their vehicle is just too noisy
You can report neighborhood offenses confidentially with an online form.

Crime rate: 4,294.69 / 100,000 inhabitants
Crime Severity Index: 50.81
Number of inhabitants: 145,365
Trois-Rivieres' crime rate is generally consistent; it is either the same or improves slightly year by year.
In 2016, despite an 11.65% improvement in its crime rate, the city remains average in Quebec.  In their 2016 annual report, the Trois-Rivieres Police Department reported that their crime resolution rate was 54.5%, down by 1.7% compared to last year.
Here is a comparative table of the number of crimes listed by the Trois-Rivieres Police Department in 2012 and 2016.
| | | |
| --- | --- | --- |
| | 2012 | 2016 |
| Sexual Assault | 69 | 78 |
| Criminal Harassment | 53 | 66 |
| Uttering Threats | 179 | 211 |
| Breaking and Entering | 790 | 465 |
| Arson | 54 | 30 |
Looking at these figures, you'll see that over the years, certain types of crimes have increased in number of incidents in Trois-Rivieres. Breaking and entering incidents continue to be alarming at 465 in 2016.

Crime rate: 4,373.7 / 100,000 inhabitants
Crime Severity Index: 53.62
Number of inhabitants: 84,156
Drummondville has been in a deadlock for a number of years, having surpassed the 50,000 mark and still does not have its own police department.  Its crime rate is starting to be alarming.  The new captain Charles Renaud has been in office since 2016 and brings an impressive record in the field.  He was there in Lac-Megantic when the train derailed.  He also worked on the disappearance of Cedrika Provencher.
He is now in charge of the Surete du Quebec station in Drummondville which employs 120 people.
You can dial 819-478-2575 to connect with the Surete du Quebec in Drummondville.

Crime rate: 4,593.89 / 100,000 inhabitants
Crime Severity Index: 72.39
Number of inhabitants: 1,942,044
Despite this unflattering position on this list, Montreal has once again improved its crime rate for the eighth consecutive year. Before the turn of the millennium, Quebec's largest urban center had more than double the current rate of 9,585.96!
Today, the Police Department of the City of Montreal has 4,613 police officers, including 1,429 women.  More than 1,500 have over 20 years in service.  Montreal's Police Department is on Twitter to keep the public informed about law enforcement breakthroughs and other important information.
Since there are thousands of offenses on the island of Montreal, let's look at some indicators:
▸ 27,025 people were charged with a criminal offense in 2016
▸ East of Downtown-Montreal is the most crime-ridden district with 1,139 crimes against person and 3,567 crimes against property.
▸ Île-Bizard-Pierrefonds-Sainte-Geneviève-Roxboro remains the safest district with only 461 crimes against person and 879 crimes against property.
The City of Montreal has an interactive map online where you can view break-ins between May 2016 and May 2017.
To reduce the number of robberies committed in residences, the SPVM gives advice for judicious prevention:
Install a home security system.
Store your valuables.
Install a timer for your lights.
Avoid having overlarge bushes or fences to shield your home from onlookers. Burglars use them to hide themselves, too.
Keep the local police informed of your situation to help prevent theft.

Crime rate: 4,593.89 / 100,000 inhabitants
Crime Severity Index: 72.39
Number of inhabitants: 145,365
Things are not going too well in Saguenay. A 2% drop in the crime rate leaves a bitter taste in the mouth of the Saguenéens. In 2016, 24 arson attacks hit the region, a peak in more than half a decade.
Below are some statistics on crimes in Saguenay:
▸ More than 40,000 calls to 9-1-1, making 112 calls to the station EVERY DAY.
▸ 130 sex crimes reported
▸ 54 abductions or kidnappings
▸ 59 fires
▸ 461 break-ins
▸ 1277 thefts
▸ More than 34,811 burglaries reported
▸ $1,323,582 in value seized
▸ $8,511 in cash seized
It seems that false alarms that compromise the movement of firemen are a bane that try to stop the service of Mr. Girard. Authorities had to raise awareness among alarm system owners regarding the importance of upgrading and checking of alarm equipment.

Crime rate: 5,384.3 / 100,000 inhabitants
Crime Severity Index: 59.64
Number of inhabitants: 281 781
In Gatineau, the record is still bleak. A slight improvement of less than half a percent in the crime rate still places it in the worst cities in Quebec in terms of crime. Cases of abduction and kidnapping jumped by 47% and serious assaults did the same (120%!). We note an increase of 12% more in burglaries, 43% on vehicle theft, and 30% of theft in vehicles, not to mention a 28% increase in cases of fraud.
The City of Gatineau has an interactive map showing crime affected areas over a period of time. Here is an overview of the current year: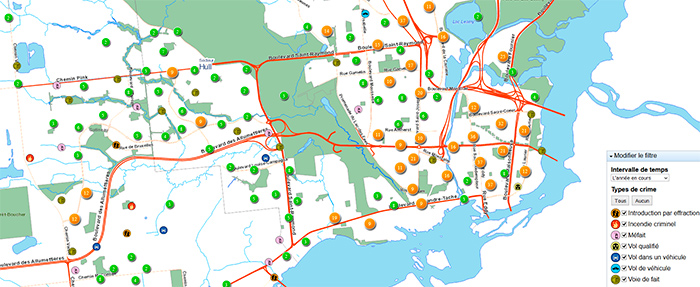 If you live in Gatineau, you can submit a report to the police. They certainly welcome your help.

Crime rate: 5,476 / 100,000 inhabitants
Severity of Crime index: 75.28
Number of Inhabitants: 48,971
By checking 2016 news concerning Shawinigan, some headlines attract attention:
▸ Big fire in downtown Shawinigan: 3 buildings on fire
▸ The Surete du Quebec is looking for a clown with an axe in Shawinigan
▸ 29-year old arrested for multiple wrongdoings in Shawinigan area
Shawinigan residents shrug their shoulders and smile, as if to say, « Yes, that's the way it is here. » Statistics fluctuate from year to year in the region, but the result is still distressing. As the rest of the province improves, Shawinigan shrugs and smiles. With the highest severity rating in the province, Shawinigan could easily pass as the least safe city in Quebec.
Significant operations by police officers of the Surete du Québec detect roadside presence of narcotics, possession of weapons or impaired drivers, but this does not solve all problems.
Here is a portrait of crime in Shawinigan in recent years:
| | | |
| --- | --- | --- |
| Year | Crime Rate/100,000 | % Rate Change |
| 2003 | 6,539.21 | 0.0% |
| 2004 | 6,125.03 | -6.33% |
| 2005 | 6,995.13 | +14.21% |
| 2006 | 7,246.88 | +3.60% |
| 2007 | 6,875.85 | -5.12% |
| 2008 | 7,829.92 | +13.88 |
| 2009 | 7,499.16 | -4.22% |
| 2010 | 7,188.71 | -4.14% |
| 2011 | 7,030.31 | -2.20% |
| 2012 | 6,865.46 | -2.34% |
| 2013 | 5,955.80 | -13.25% |
| 2014 | 6,025.97 | +1.18 |
| 2015 | 5,107.52 | -15.24% |
| 2016 | 5,476.00 | +7.21 |

Crime rate: 5,962.93 / 100,000 inhabitants
Crime Severity Index: 71.56
Number of Inhabitants: 75 812
The biggest loser on the list is Saint-Jerome. Standing above the other cities with an impressive 5,962.93 / 100,000 inhabitants, the city is also experiencing its best provincial presence this year. Just 20 years ago, its crime rate was 10,245.39. Ten years ago it was 8,086.38.
The constant noise of modified engines, peddlers and beggars, the cries of drunks coming out of bars in the early morning hours are all so real … St-Jerome is no longer the jewel of the Laurentians, but rather the Quebec madhouse. There are many peaceful residents who want to leave the region.
Will we find St-Jerome at the top of the charts for crime? Probably. There is nothing to suggest an improvement on the part of the city. If you live in St-Jerome, we take pity on you…
In order to make your life safer, 3 Home Protection Quotes offers you the opportunity to shop for a home alarm system for your home.
Get the Best Home Alarm System for your Home's Safety
Home alarm systems are extremely important as they protect our home and our family from all kinds of perils.
From burglar alarm systems to fire and carbon monoxide alarms, home security can prevent loss of life and property.
Fill-out the form on this page, free of charge, and receive 3 alarm quotes from professionals in the field of security. Compare these offers and choose the one that suits you best.