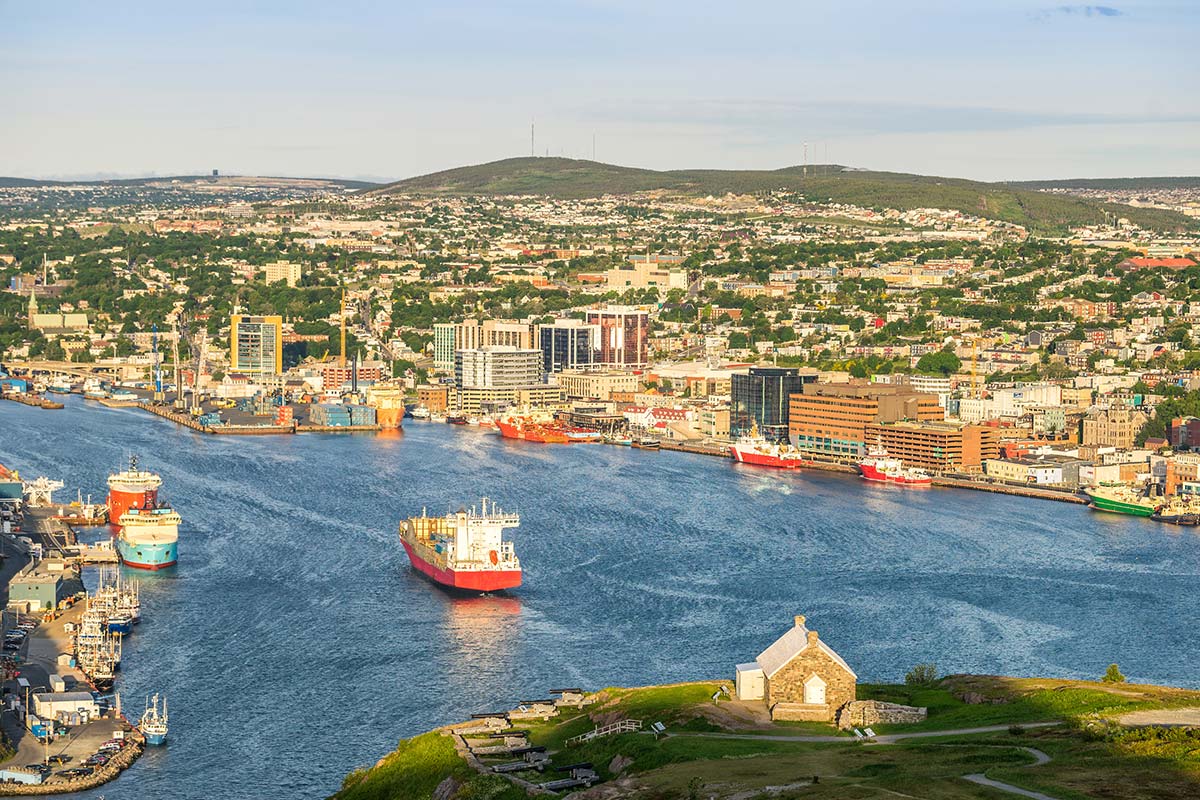 If you live in Saint John and want to make a safer home for your family, it is time to think about getting a reliable home security system.
You may have looked at some alarm companies and felt unsure what type of home alarm system you need.  Keep in mind that you have one goal – to get an affordable and reliable home alarm system that suits your lifestyle.
If you buy a home alarm system without understanding your needs, you may end up with an alarm that doesn't work for you, or worse, is useless.
You can compare free home alarm quotes to find the best home alarm package in Saint John that gives you protection 24/7, 365 days a year.
Every Home Needs Home Protection in Saint John
Saint John's Crime Severity Index in 2016 is 82.51, much higher than in more highly populated cities like Ottawa, Gatineau, Montreal, or Toronto.  It is one of the highest in all of Canada.
In the last decade, Saint John has seen high crime rates for crimes including breaking and entering, robbery, vehicle theft, theft in vehicles, and firearms use.  And while the latest police data in New Brunswick shows that crime rates have been improving in the last 5 years, one incident is still one too many.
What Crimes Are Happening Around your Neighborhood?
Police authorities are working to get the communities more involved in preventing and stopping crimes.  They also want residents to be more aware of the dangers and to take safety measures to protect themselves.  In fact, Saint John Police have an interactive crime map which allows people to see what crimes are happening in their neighborhood.  You can create your free account to be alerted of crimes in your area.
Watchfulness is essential to crime prevention. Homeowners should get a home security system to protect their homes and their families. Studies show that the risk for burglary increases three times in homes without a home security system.
Early detection of fire by smoke and heat detectors also help to save lives and property.
For as little as $1 a day, you can have complete peace of mind about your home security.
Different Types of Protection from a Home Alarm System
A home security system is highly recommended because it provides different types of protection for the home and family.
In choosing the right alarm system, you need to consider what level of protection you need and the security features offered by different alarm packages.
Intrusion and Burglary Protection
Protection against intrusion and burglary is the most basic feature of any home alarm system.  Every homeowner wants to ensure that the home is safe from burglary and from intruders.
You may be surprised to know that most burglaries happen in the daytime, between 10 am to 3 pm, when most people are at work or school.  But more frightening is the fact that in 3 out of 10 burglaries, someone is at home and experience some kind of violence.
Statistics show that burglars avoid homes with security systems.  Recent innovations in home security have made it possible for criminals to be caught on camera.  This is critical to the apprehension and incarceration of criminals.
When you have a modern home security system, you get access to surveillance video of your property using your mobile device from anywhere.
Live 2-way voice technology allows a central monitoring station to verify a break-in or other dangerous situations and notify authorities within minutes.
Learn about the best home alarm companies in Saint John to know more about security solutions that suit your needs and budget.
Total Fire Protection
According to New Brunswick Fire Marshall reports, there were 11 fire-related deaths in the province in 2016.  There are 4 structural fires per day in the province, about 1,460 fires per year, with some completely destroying homes and claiming lives.
It is critical to have working smoke alarms on every floor of a home and every bedroom.
Remember, fire is worse than a burglar because it can wipe out everything you own and even kill. 
With smoke and heat detectors, an alert is immediately triggered when there is a danger of fire.  When a security system is monitored, the alert is immediately received by a monitoring center that is active 24 hours, 7 days a week.  The fire department is summoned in a timely manner and medical responders are called when needed.
Timely response is critical because 60 seconds can make a huge difference in saving your home and the lives of loved ones.
Carbon Monoxide Protection
Did you know that in January 2017, 2 people died while 42 others were treated for carbon monoxide poisoning when a severe ice storm blew through parts of New Brunswick and caused a power outage which lasted several days?
These victims never knew they were breathing in toxic air as they slept.
Carbon monoxide, a highly toxic gas, creeped into their homes. This poisonous gas is lethal, even in very short periods, and is almost impossible to detect by smell or the naked eye.
Carbon monoxide detectors easily detect the presence of carbon monoxide in the home and warn you to get out before it is too late.  Monitored systems send alerts to the monitoring center who will ensure that everyone in the home is awakened and out of the house immediately.
Why Every Home is in Danger from Carbon Monoxide?
Carbon monoxide is colorless and odorless. More than 500 people die and thousands more become victims of carbon monoxide poisoning.  If you have an attached garage, wood-burning or fuel-burning equipment at home, your home is at risk.
Don't let your family become another statistic. Protect your family with a home security system  with carbon monoxide detectors.
Choose between Monitored or Non-Monitored Alarm Systems
It is easy enough to find burglars and fire alarms sold retail. DIY alarms are affordable and easy to install. But ask yourself – how sure are you that they will work at a time of emergency?
You just don't need a burglar alarm. To ensure complete family protection, you need a complete security system with inter-connected sensors that guard your home against real risks, including:
✓ Fire
✓ Intrusion and burglary
✓ Flood
✓ Carbon Monoxide
✓ Panic buttons
It is also critical that your alarm system is being monitored 24/7 to ensure non-stop protection from all threats to your home and loved ones.
Stay one step ahead of intrusion, fire, flood, and other real threats to your safety and prevent extensive damage to your property.
How Central Monitoring Services Work and their Cost
A big decision you need to make is whether to get a monitored system or not.  It isn't just cost you need to think about; you also have to consider who will be monitoring your system if you don't get monitoring services. Are you able to check on your alarm system consistently and react to alerts 24/7?
For most people, the length of the monitoring contract is a big deal.  Most major alarm providers will require from 24 months to 36 months' monitoring contract.  The duration of your contract also has a big impact on the cost of your home security system. With a longer contract, you pay little to no installation fees and get free use of alarm equipment.
It is important to compare the following when choosing your alarm monitoring package:
Installation fee
Length of monitoring contract
Customer service support
Monthly fees
Cancellation fees
You may also wish to check if you are able to relocate your alarm system in case you move.
Start comparing home alarm packages in Saint John with our short online request form.
The Magic of Home Automation – Savings, Convenience and Security
With home automation features in your home security system, you get complete remote control over your home.
Control lighting, temperature, arm and disarm your alarm system, set your home's mood, view video remotely, and so much more, all from your tablet or smartphone.
✓ Convenience
✓ Energy Savings
✓ Remote access to your home security system
These are 3 of the top benefits you can get from home automation. You can save a lot of time and effort in managing your home, save on energy bills, and most importantly, tailor your home to your family's needs and lifestyle.
Review Home Security Systems in Saint John with Free Alarm Quotes
You now know the most important details about residential security systems and how they can make your home much safer for your family.
Identifying the right alarm system and alarm provider can be confusing, but we can help.
We offer free and no obligation home alarm quotes, including the biggest ADT alarm provider, to make it easier for you.
Our alarm partners are professional and completely licensed to offer you the best home security system your money can buy.
From basic security systems to complete all-in-one security solutions, our alarm partners offer what you need anywhere in New Brunswick.
Request for your free quotes with our quick online request form and connect with 3 leading alarm providers in Saint John.