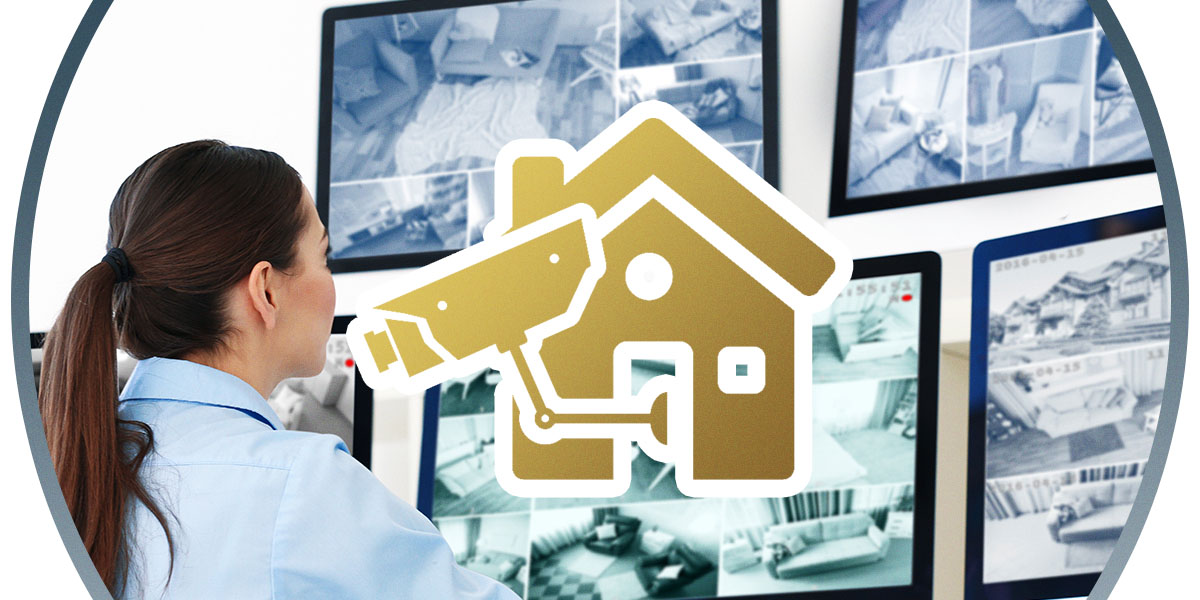 Alarm systems are great for preventing break-ins and burglaries. In fact, a good alarm system will stop a burglary before it happens.
In order for an alarm system to work effectively, monitoring is the key. Someone must react to an alert to get the necessary response such as police assistance or medical responders.
To get the best protection for your home and family, take a few moments to read and understand your options.
Alarm monitoring: the pros and cons
If you have an alarm system installed in your home, you basically have a system guarding your house whenever it is armed. Your system is set-up in such a way that someone is responsible for receiving alerts, monitoring the status of the alarm, and reporting to authorities any threat or emergency, as needed.
Your system can be professionally-monitored by a security company or self-monitored.
A professionally monitored or company-monitored alarm system means your alarm was installed by an alarm company. Alerts are received by a central monitoring station which is responsible for informing the police, fire department, or medical responders if there is a situation in your house that needs action.
In contrast, a self-monitored system will notify an assigned contact person (the homeowner) who will receive alarm alerts by text. You will be responsible for verifying the alert and notifying the police or fire department, as needed.
Below is a quick comparison between these 2 types of alarm systems to help you understand which type of monitoring works best for your situation.
The difference between professionally monitored and self-monitored
alarm systems
Professionally monitored alarms
Pros
Cons
When an alarm is triggered, the monitoring center is automatically notified. They will validate the alarm and call the authorities. This means you are assured of assistance even if you are unconscious or unable to react to an alert or even away from home.
Professional monitoring services usually require a long-term contract (2-3 years) depending on the company)

Has a monthly monitoring fee

Professional installation ensures there are no blind spots in the house
Requires technicians coming to your house to install
Most companies charge an installation fee
Minimize false alarms through validation of alerts
The police are dispatched if you don't answer your phone. False alarms carry fines.
Company-monitored systems are provided with window stickers and yard signs which effectively keep away intruders
Alarm companies charge cancellation fees which can be hefty if you break the contract
Include many security devices to enhance your protection such as door and window sensors, motion sensors, cameras, etc.
You must set the alarm before leaving the house or going to bed or it won't be activated.
Many professional systems use landlines or cellular radio and come with a battery back-up which ensures that your alarm works even when the power is out.
Monitored alarm systems guarantee that someone is always checking on your security system and will react appropriately to any threat, whether you are at home or not.
Many alarm companies offer additional features such as panic pendants and medical alert systems to further increase your personal security.
Self-monitored systems
Pros
Cons
No monthly fees
Inexpensive
Need wi-fi or power to operate, the system can't work if the power is out
Can be easily relocated
If you miss an alert, the police or fire department may not be notified unless a neighbor calls them
You receive cell phone alerts which allow you to decide whether to call the police or not
If you are in an area without coverage, you won't receive alerts
Many self-monitored systems are accessible by using a smart phone which lets you monitor remotely. You have to call 911 if you see that an intruder has entered your house.
You are responsible for monitoring your alarm system. If you are often away or busy, you could fail to pay attention to your alarm system.
You must check on the alarm regularly (batteries, ie., to ensure that they are working properly.
More advanced features may not be found in self-monitored systems
You don't need to spend a fortune to have greater peace of mind and safety for your home and loved ones. You can find out how much it costs to get professional monitoring services for your security system.
In fact, you could even get alarm equipment, free of charge, if you sign up for monitoring services with a long-term contract.
Compare alarm quotes today by filling out a short form on this page to connect with reliable security companies serving your area.
You can receive free and no obligation quotes for your home security system and get peace of mind.
How does a professionally-monitored system work?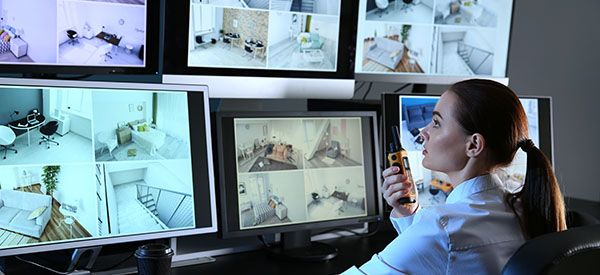 Based on a survey by North Carolina at Charlotte, 83% of convicted burglars said that they check if a home security system is present in a home before they attempt a burglary.

They check windows or doors for sensors or even pose as visitors to check for cameras.

Further, the 2012 FBI Crime Report indicates that most burglaries occur between 6 am to 6 pm, when people are at work.

With that in mind, a professionally monitored alarm system can really provide enhanced protection to your property, particularly when you are not there to guard it.

So how do you choose an alarm monitoring service and how much is the cost?

First of all, some alarm companies require professional installation (ADT)  while others are DIY (Frontpoint).  Whichever system you choose, a professional monitoring service means that your alarm will be connected to a central monitoring station which operates 24/7, no holidays or breaks.

You have the option to choose the monitoring plan that you want, based on your needs and budget.

Some of the features you can choose are:
Top of the line equipment
Mobile access
Home automation
Personal emergency monitoring (panic buttons, fall detectors)
Carbon monoxide
Flood monitoring
Video surveillance
You can choose a basic plan or a package with all the bells and whistles. Of course, the higher the plan, the more protection you can get but it can also become more expensive.

With a monitored system, you can rely on your monitoring company to take care of responding to alerts. You will also receive text notifications or phone calls to verify before the police are dispatched. In case of fire or medical emergencies, the monitoring station will react promptly to any alert, even if you are unable to respond due to injury.

Many alarm systems provide 2-way voice communication for added security.

With professional monitoring services, you have peace of mind and continue to live your life without worry. You are assured that your home is protected 24 hours a day, 7 days a week. In case of a security event, you will be notified quickly but responders are also notified to get you the help you need as soon as possible.

During emergencies, time is of the essence and even a short delay can be life or death.
Are you at risk with an unmonitored alarm system?
Both professionally-monitored and self-monitored alarm systems provide you with the ability to check on your home security, whether you are at home or far away. The main difference is your level of responsibility as self-monitored systems require your full commitment to monitoring the system. In short, you do all the work with self-monitored systems.
In contrast, unmonitored systems are designed to scare away burglars by making a racket when they step on your property. You hope that one of your neighbors hear the noise and notify the police. If you are out of luck (neighbors are not home), a delayed police response could mean the burglars get away with your belongings successfully.
Unmonitored alarm systems do add some layer of protection to your home and your family but it may not be adequate.
Wouldn't you want to make sure that intruders don't get to set foot inside the door, especially when your kids are home?
You may be surprised to know that a professional security system can cost you as little as $20 a month, which is just about what you may be spending on your favorite cup of coffee monthly.
The best thing to do before you decide on your home security is to compare alarm quotes using a free comparison service that lets you see your options and make a well-informed choice.
After all, what is the price of safety for your home and family?
Protect your home 24/7 with alarm monitoring services: Compare today!
Alarm monitoring services can really provide you with a great way to protect your home and family.
You can share the burden of providing security to your property and your loved ones with reliable security companies with decades of experience.
Our network consists of experienced and qualified alarm partners that provide the best home security systems in the country.
No matter where your home is located, you can get a home security system you can count on for the lowest possible price!
In just 2 minutes, fill out a short form on this page to request for free alarm quotes from our trusted partners.
Compare the quotes you receive and choose the package that suits your needs and budget.
FREE and NO OBLIGATION!