A security system connected to a central monitoring center is a service of uninterrupted protection 7 days a week and 24 hours a day to:
✓   deter criminals,
✓   locate a gas leak,
✓   protect your belongings and your loved ones, or
✓   watch over your property.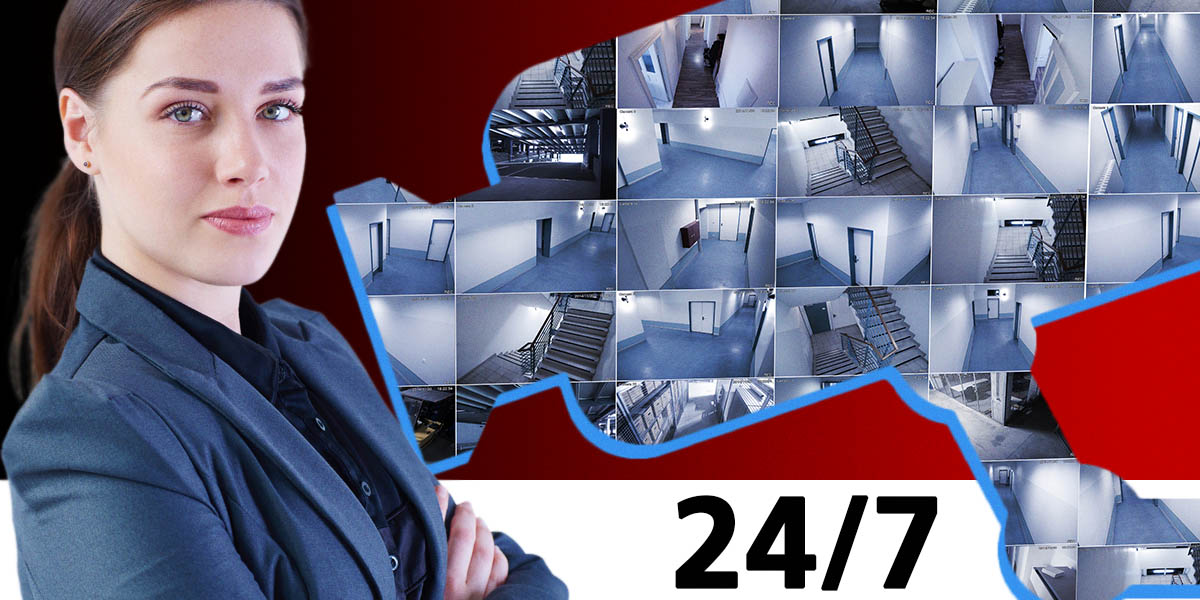 Advantages of an alarm system connected to a Central Station in Quebec
At home, alarm systems often go hand-in-hand with other intelligent processes such as home automation, making your home as comfortable as it is safe.
Security through video surveillance connected to a central monitoring center is one of the best deterrents against theft and break-ins.
Indeed, they record all the events and actions of an intruder on the spot and transmit the corresponding signals to the monitoring center. Simply display the sticker from the alarm company on your door, window, or yard to warn outsiders that they are on camera and people with bad intentions are effectively dissuaded.
Transmission to the alarm center starts as soon as a sensor or contact point spots a break-in, fire, or any other situation that triggers an alarm. A system can be connected to an alarm center so that the sound signal is delayed in order to catch the thieves in the act.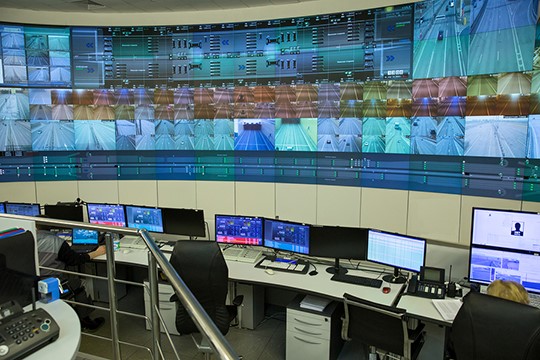 The advantages are, therefore:
Savings on your home insurance can, in part, offset your monthly fees. Indeed, when you are connected to a monitoring center, certain insurers offer an attractive discount on your home insurance.
At the monitoring center, agents are on duty 24 hours a day, 7 days a week. When an alarm system that is connected is triggered, the responsible agent will be alerted and he will send the necessary response team to your home without delay.
The deterrent effect of your security system's stickers, if displayed prominently, is quite effective. Thieves prefer to « work safely ».
There are security packages for all types of budgets. As long as you do not exceed the number of motion detectors and surveillance cameras in your home, it is possible that the installation of your home security system is free or inexpensive when you sign up for a monitoring contract for a period of two or three years.
If you do not feel safe (if home invasions are common in your area or if your mobility or independence is limited), a panic button can be triggered at any time. Help will be sent to you quickly. The personal emergency button is included in all security packages.
The cost of an alarm system connected to a central monitoring station
The base price of residential packages is $ 15 per month while the price of the superior package varies between $ 40 and $ 50 per month.
Among these different alarm packages, you will most certainly find one that suits your needs and your budget.
Not all security companies offer the same packages but here is a summary of the services you can obtain according to your budget. These amounts are estimates and may vary.
The amounts in italics and in parentheses include:
the costs of monitoring services
installation of a home security system
the price of the alarm components.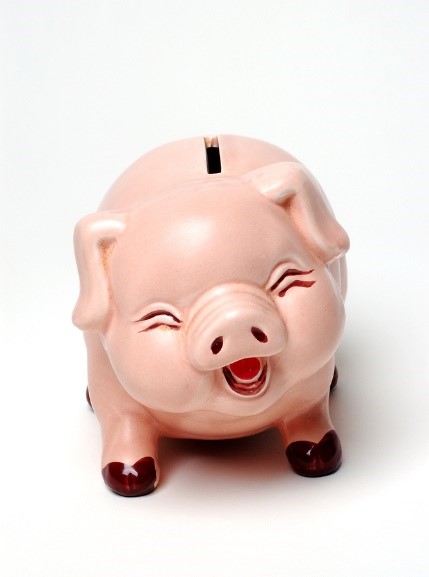 Remote Monitoring Package for $25/month (value of $1,200 or more)
Appropriate assistance can be dispatched to you quickly if your alarm system is triggered by:
fire
theft
an intrusion (vandalism, for example)
carbon monoxide
your personal panic button
In addition, you could benefit from insurance if there was a breakdown in your home security system. Maintenance services can also be included in your package.
The cost of an alarm system connected to a central monitoring station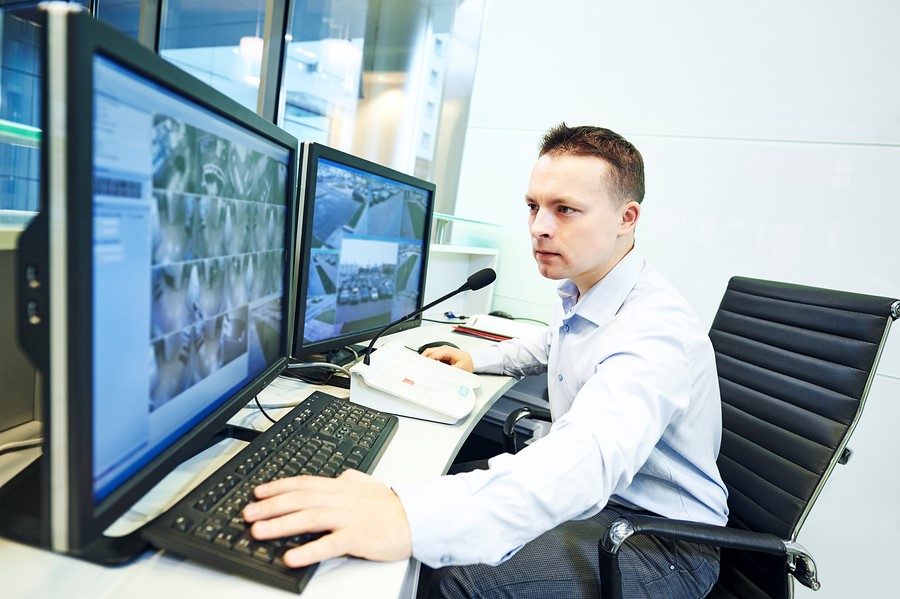 The base price of residential packages is $15 per month while the price of a superior package varies between $40 and $50 per month.
You can find one that suits your needs and budget among these various offerings from alarm companies.
Not all security companies offer the same packages but below you will find the type of services you can access based on your budget. These amounts are approximate and may vary.
 Amounts in italics and in parentheses include:
the price of monitoring by a central monitoring station,
the installation of your home security system,
the purchase price of alarm products.
Remote Monitoring Package for $30- $35/month (value of $1,600 or more)
In addition to all the options mentioned, you will be able to control your home security system by using the internet. You will also have access to particular remote monitoring like the detection of water leakage, for example.
Remote Monitoring Package for $40/month (value of $1,600 or more)
All the services mentioned in the above packages are offered to you as well as the control of your home security system (interior and exterior) and voice communication with an agent from the monitoring center through cellular waves.
Remote monitoring package with home automation option from $50/month (value of $1,600 or more)
In addition to the services included in the above-mentioned packages, your home automation system allows you to ensure control of your security system and the atmosphere of your home through the interface of your choice:
smartphone,
tablet,
laptop,
Desktop.
Central monitoring station 24/7
This is the alarm center of your security system that receives the warning of any security breach perceived by the various sensors and detectors. It transmits information in real time to the Central Station.
The price of a wired alarm with monitoring: about $360
 Residential security products, their role, & prices

A home security system has many different components. Each of these components plays a distinct role.
Here is a non-exhaustive list of the elements of a residential security system and an approximate price of special hardware.
However, not all security companies can install a product that does not come from their distribution network for product quality (warranty) and compatibility with their installations. Check with the security company you plan to connect to later.
The control panel
The control panel verifies transmitted signals and triggers the alarm if necessary.
The price of a control panel: about $70
The keyboard
The keypad allows you to activate or deactivate your home security system. Also, it displays the alert received, the detector that has captured the potential threat, and the reason for the alarm.
The price of a touch keyboard: about $200
The price of a non-touch keyboard: about $100
The audible or silent alarm
The control panel can sound an audible or silent alarm.
The audible alarm will scare off intruders with a very noisy sound.
As for the silent alert, it only warns the monitoring center which will then send emergency responders.
Motion detectors
These volumetric detectors perceive, by means of infrared rays, movement, shapes, or bulk in the zone they cover.
Motion detector/alarm combo price: about $60
The digital recorder (DVR)
This component records the images filmed by your surveillance cameras. You can check them whenever you want, even remotely, depending on your package.
Security cameras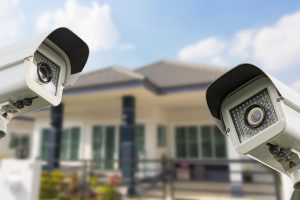 Security cameras can be included in your home security system together with motion detectors and equipped with a digital recorder to detect security breaches.
There are several models, some of which combine viewing angle, night vision (low or no light), HD technology, etc.
The range of prices for these cameras is from $300 to $350. Outdoor models are designed to withstand the weather.
Price of outdoor surveillance cameras: between $80 and $250
Price of indoor surveillance camera: between $100 and $150. Some indoor models can be small and easily hidden.
Price of mini cameras: about $ 90
Magnetic contacts and sensors
These elements are attached to window frames and doors. They detect an intrusion when there is a break in the magnet that connects them.
Prices of door & window detectors: Approximately $10 each
Smoke detectors
A smoke detector warns you of an imminent fire hazard.
The price of a 2-in-1 smoke and carbon monoxide detector: between $40 and $50
The price of a conventional smoke detector: about $10
Water leak detectors
Strategically located, these components prevent the possibility of overflows or pipe breakage.  Measures can be taken quickly to avoid (or limit) water damage.
The price of a reusable water leak detector: about $9
The price of a disposable water leak detector: about $6
Panic buttons and medical bracelets
Many people want to have a panic button installed at a strategic location in their home, especially those who have a disability or with limited independence. In addition, banking institutions or convenience stores also find this component particularly useful.
All you have to do is press this button to trigger a silent alarm that will contact the police, paramedics, nurses, your family, or any other contact of your choice.
If you prefer to bring this device while you move around the home or even outside the house, models in the form of bracelets, pendants, or even key chains are available.
Some wristbands are waterproof and can be used while in the shower whereas others detect falls to call for help if needed. You will even find cellphone-connected bracelets that will allow you to travel across the country!
There are many options and are tailored to people's needs.
The price of a panic button/emergency bracelet/pendant: about $199.95.
The price of a bracelet or pendant connected to a monitoring center: about $34.99 per month.
The price of a fall detector safety bracelet: about $39.99 monthly.
The rate for the device to be enabled across Canada (often called the GSM package): about $49.99 per month.
Timers
You can simulate your presence at home by programming the opening and closing time of your lights and various other electrical devices (television, radio, outdoor lights).
The cost of a timer: about $120
How to choose your monitoring center? Look for certifications
The quality of the installation of an alarm system, as well as the system itself, is of prime importance.
The safest way to ensure reliable protection is to secure the services of a company whose specialization is to install this type of security system and, above all, has the required certifications:
The 5 big mistakes to avoid when choosing your alarm system

1. Forgetting to check possible access points
There is no point in having an alarm system if you do not check all the possible accesses used by criminals. Indeed, your main entrance could be completely protected but if the windows are not part of the equation, burglars will quickly realize this and use this loophole.A security system aims to detect, but above all,  to prevent unexpected comings and goings in and around your home.
2. No guarantee

Make sure that the contractor who will install your alarm system provides you with a guaranteed refund. This demonstrates that he accepts responsibility by offering you such a guarantee on the quality of the service.Try to get this guarantee in writing to anticipate any future problems.

Further, read the contract from top to bottom before signing the agreement to know all the pertinent details of the transaction.

3. The keypad is in the wrong place
Make sure that the keypad of your alarm system is not placed near the siren so that it can not be seen from outside the house. Thus, if an intruder sees it  by the window and realizes that the system is not working for some reason, he will know it is safe for him to target your house.
4. Block your detectors and cameras
If you like the idea of frequently moving your furniture around, consider carefully their new location.

Make sure that no plant, shelf, entertainment, furniture, or other material interferes with the functionality of motion detectors so that they can function effectively.

Avoid crossed signals and keep any wireless device or microwave away, for example, from motion sensors to ensure the system works.

And, of course, do not block the view of security cameras as otherwise,  the central monitoring center will not be able to access the images.

5. Believe your security system is magical.

A home security system does not do all the work in protecting your property.Continue to adopt basic security essentials such as using secure locks on your exterior doors for better protection.

Do not think that your security system is « perfect » as this will only give you a false sense of security.

Do not ignore basic security measures.

Keep the locks on your windows secure and maintain good external lighting to deal with the problem.

Any adequate residential security system has multiple additions to provide optimized protection. Ensure that your entire household also gets involved to make everyone conscious of their safety.
Compare the prices of an alarm system connected to a central monitoring station
Whether you are in Montreal, Quebec, Trois-Rivières, Sherbrooke or elsewhere in Quebec, you can choose from a multitude of monitoring centers that offer different services and prices.
Below are some examples of their costs:
Keep in mind that these are prices are approximate and may vary:
economic package: $ 15/ month
mid-range package: $ 35/ month
mid-range package and a little more: $ 40/ month
high-end package $50/ month
There is a package that suits your needs and your budget.
But where should you look and which one should you choose according to your needs and your budget?
Comparison of 3 Alarm Quotes made easy: 1 form to get up to (3) three quotes
Based on your criteria, our team will refer you to the best security companies.  Our alarm partners, located in your area, are very professional and reputable.
You will be happy to know that this service is:
✓   free,
✓   fast and
✓   without any commitment on your part.
We will be happy to help you in shopping for your home security system with central monitoring services.