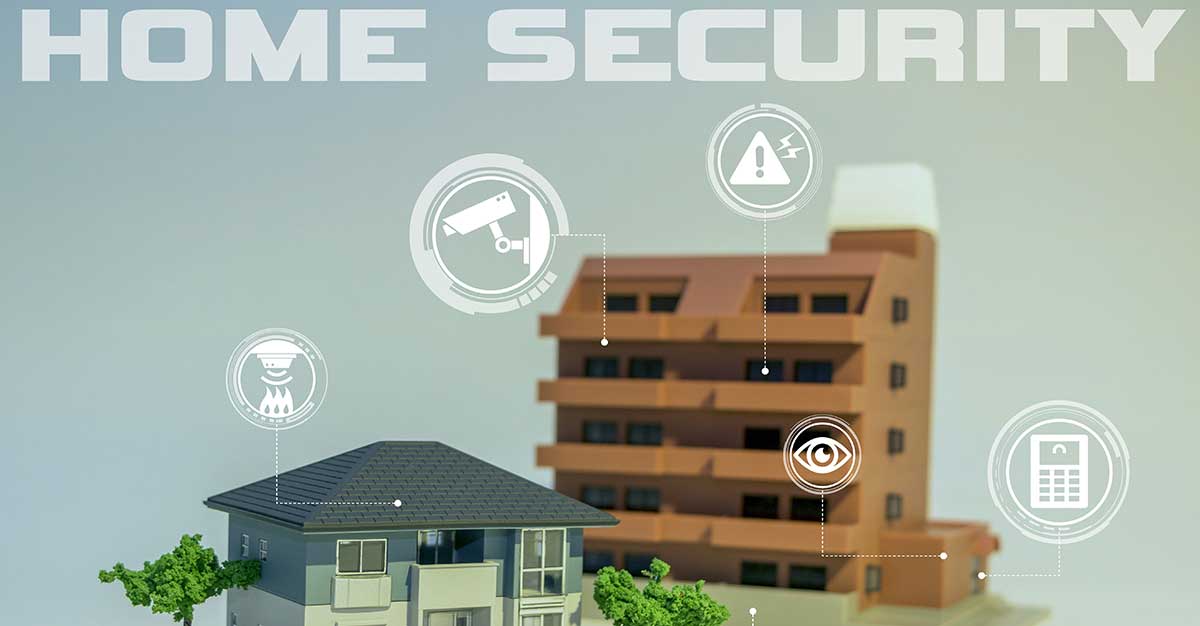 You may think you don't need a home alarm system because you live in a condo or apartment.  You may be living in a cloud.
It can be fairly easy for a burglar to enter an apartment building and break-into an apartment unit, especially if there's nobody home.
Breaking and entering is a common crime in Canada, with one happening every 5 minutes.
Despite these statistics, renters often ignore security risks because they don't want to invest in an expensive alarm or get locked-into a long term contract.  Renters rarely stay too long in one place, often moving to newer or bigger spaces.
What's Holding You Back from Securing your Home?
Many renters don't have landlines and are prohibited from doing any drilling in the unit. If you are renting, you probably worry about having to move and the money you spent on your alarms system will go to waste. Worse, you may even have to pay a cancellation fee or a relocation fee.
So you put it off, indefinitely. Until it's too late.
Don't neglect your own security for one second longer.  When it comes to security, it is important to find solutions that suit your circumstances and your budget. After all, a single burglary incident can cost you thousands of dollars.
Even more frightening to think about is the fact that 1 out of every 3 assaults are related to burglary.
Wireless Alarms for Apartments with DIY Options
One of the biggest benefits of using a wireless home security system is that it eliminates the need for hard-wiring.  It also works without a landline.
With that in mind, it is an ideal solution for renters that are prohibited from installing any wired systems or drilling holes in walls.
Easy to install and can be completely DIY
Expandable and allows for addition of more devices
User-friendly
Cheaper than hard-wired systems
Can be moved around from room to room to suit your needs
Battery-operated
Wireless systems can provide the same features in a home security system as hard-wired systems.  With the use of radio waves, your home alarm system communicates with a control panel, cameras, and sensors.
Understanding the Way Wireless Alarm Systems Work
Your apartment isn't really yours but most of what is inside belong to you. Security and safety remains to be your biggest concerns.
In case of a fire, you can lose everything you own, not to mention, your life will be endangered.
In case of a burglary, you may lose valuable possessions. Further, you might never feel safe ever again.  If you chance upon a burglar, there's no telling what could happen.
A wireless security system is less complicated, takes less time to install, and cheaper in the long run because you can waive professional installation.
If you ever have to move, it is possible to take your alarm system with you as they are completely portable.
Comparing Wireless Alarm Systems for Apartments and Condos
Now you know that apartments and condos can be equipped with wireless security systems.  Whether you want to do it yourself or prefer a system to be installed by a trained technician, you can surely find what you need from among our alarm partners.
But before you choose your alarm provider, you will need to understand the various offerings in the market.  You surely don't want to overspend on an alarm system or buy one that doesn't suit you.
It is important for you to look into the following:
Equipment cost
Technical support
Monitoring services
Monthly fees and duration of contract
Relocation option and fees, if any
Warranties
Multiple alarm companies serving your area offer various alarm packages in different forms.  Some offer free equipment for a 3-year monitoring contract. There are also promotions for lower monthly fees for subscriptions within a certain period.
You can study these options by obtaining free home alarm quotes with our short online request form.
Features and Functions of Wireless Alarm Systems
Today, many homes no longer rely on a landline as majority of people prefer mobile phones for communication.
Wireless home alarm systems rely on radio frequency technology to allow individual sensors to communicate with the alarm's control panel.  The panel also communicates wirelessly with a monitoring station by way of a cellular network.
A basic alarm system has 3 critical components – a control panel, the alarm's sensors, and a monitoring center.  Along with sensors, the alarm system can also have wireless security cameras and smoke detectors.
Different Types of Wireless Alarms
You can find a wide variety of wireless security systems in the market.  In addition to a basic package, an alarm system can also have more features such as remote web access for text and email notifications, live video streaming, and home automation.
A wireless security system can also perform many other functions for higher level of protection. These include carbon monoxide detection, fire, and medical alert systems.
Depending on which alarm provider you choose, you can get a completely DIY alarm system which you can install yourself.
But in choosing your wireless alarm system, take the time to really study your options so you don't get stuck with a bunch of devices you don't need.
In the same vein, you don't want to get a pre-fabricated package of sensors that are inadequate based on the size of your home.
How to Install Wireless Alarm Systems
For DIY junkies and technology-driven consumers, installing a wireless alarm system can be a fun project.
For instance, FrontPoint offers completely wireless and DIY systems. You can plug in the control panel, position the sensors, and activate your alarm system.  It really is a breeze to install and should take less than an hour.
Create your Customized Security Plan
Part of the fun of installing a DIY home security system is to create a customized security plan that suits your lifestyle. You can choose the components you want, including:
✓ Motion sensors
✓ Window sensors
✓ Door Sensors
✓ Security Cameras
✓ Smoke detectors
✓ Carbon Monoxide detectors
✓ Key Fob
ADT, a leader in alarm technology and monitoring in North America, also offers advanced wireless security systems. However, it isn't a DIY system and will be installed by a professional technician.
On the upside, professionally installed alarm systems provide a guarantee that the system is correctly installed to avoid issues, and consultants ensure that the system meets your individual requirements prior to installation.
Some alarm companies offer alarm packages that include installation with monitoring services.  All you need to do to increase your home security is to sign-up.
Are Wireless Home Security Systems Reliable?
Wireless home alarm systems make use of cellular monitoring.  They offer reliable protection and have less risk of tampering because there are no wires for burglars to cut.
If you worry about reliability with a wireless alarm, you should keep in mind that factors like electromagnetic interference can affect reliability.
However, wireless systems have individual batteries which ensure that the security system continues to perform at peak even during power outages.
Vulnerability to Hacking
Just like other wireless devices, it is possible for a wireless security system to get hacked.  Criminals continue to find ways to commit a crime – steal passwords, jam radio signals, etc.
This can be avoided by using advanced wireless alarm systems that utilize multiple channels, making it difficult for criminals to jam.  You can also find wireless security systems that use encrypted signals for higher reliability.
The Wonders of Home Automation from Wireless Security Systems
Home automation can make your home a safe wonderland. You can arm and disarm your security system, open and close doors, turn lights on or off, open and shut the garage door remotely, and control your home's temperature. All these things you can do with a few taps on your mobile device.
Unlike in hard-wired systems, wireless connections have receivers and transmitters that communicate through radio frequency.  This allows you to control devices in your home with a push of a button.
Perform Tasks in your Home from your Device
You can perform tasks like timing a coffeemaker to turn on, turn off the heater when you leave for work, turn the porch lights on at 6 in the evening, or turn on the air-conditioner.
A major benefit of home automation is energy savings.  By controlling appliances in your home, you can reduce energy consumption and save money, too.
You can turn your home into a smart home with the wonders of home automation from wireless security systems.
Want to know the various alarm packages for wireless systems from various alarm companies?
Below you can find a comparative table of 3 top alarm providers in Canada.
Compare Costs of Wireless Home Alarm Systems with Monitoring
If you are seriously contemplating a wireless home security system for your apartment, below you'll find the best options in Canada.
Each brand would have a different technology and have their own pros and cons. Learn more about their features to help you make the right choice.
# 1 – ADT Pulse Home Automation
ADT is one of the oldest alarm companies in North America.  The ADT Pulse Home Automation system has various cool features but the package costs a bit more than your basic alarm package.
ADT Pulse uses Z Wave technology which allows you to check on your home from work, on the road, or even when you're on vacation through your smartphone and an interactive app.
ADT's premium package with cell guard and remote arming and disarming costs $53.99 monthly with a one-time activation fee of $99.
The ADT Pulse package includes the following:
✓ 24/7 monitoring services
✓ Remote system arming and disarming
✓ Flood and water sensors
✓ Lighting and thermostat control
The company sends an ADT technician to install the home security system for you to have less to worry about.
Essential Facts about ADT Systems
Their alarm packages with monitoring require a 36-month contract.
If you need to move, ADT offers a relocation special. You can benefit from free installation and get 25% discount off additional devices your new home needs.  An ADT technician can install a new system in your new home.
Early cancellation requires payment of 75% of the balance.
Our alarm partner is the biggest ADT systems provider in Canada.
# 2 – Frontpoint Alarm Systems
Frontpoint has made a name for itself in Canada in the last few years for its affordable home security. They offer completely wireless security systems using cellular technology. The company is proud of its smart home technology and offers the following with its alarm packages:
✓ Home alarm monitoring services
✓ Indoor and outdoor cameras
✓ Fire sensors
✓ Flood and carbon monoxide sensors
✓ Panic pendants
✓ Home automation with light control
Their security systems are 100% DIY so you don't worry about arranging a convenient time for a technician to come to your home to install your alarm system.
Frontpoint offers Interactive Monitoring for $44.99 monthly and Ultimate Monitoring for $49.99 monthly.  There's also a one-time charge of $99 for activation.  Both plans have light and climate control with the same basic protection features for burglary, intrusion, and fire.  Ultimate Monitoring has more home automation features, including wireless security video.
Because Frontpoint alarms don't need professional installation, it is easy to relocate an alarm system in case you need to move.
# 3 – Alarm Force
Alarm Force is based in Toronto, Canada.  It offers free labor, installation, and equipment for a monthly fee of $25 for a 36-month monitoring contract.
Their package includes:
Window/door contacts
Motion detector
Siren
Keypad
2-way voice communication
Basic protection features include anti-burglary, fire and smoke, carbon monoxide, medical panic, and temperature sensing.  They provide an access app that allows you to control the devices in your home.
Alarm Force allows existing customers to move with their home security system and offer options for relocation.
These are but 3 of the biggest alarm companies serving Canada.  When choosing the right home security system, it is important to scrutinize the quote you receive.  It is best to keep in mind that FREE may have drawbacks. Check on cancellation policies, cost of additional sensors, relocation policies, warranty on equipment, and customer support.
As a renter, you want to make sure the investment you make on a home security system is tailored to your needs and lifestyle.
Get the Latest Promotions on Wireless Home Security with Free Alarm Quotes
We know you want to get the best home security system for your apartment but want to save on costs.
It is important to compare multiple offers, including the latest alarm promotions, to lock-in the best price.
It takes a lot of time to pore over websites looking for the information you need about costs, monitoring contracts, product features, and terms and conditions.
We make it fast and easy for you by sending you the best alarm quotes from leading alarm providers in the country.
Free Quotes, No Obligation – you have nothing to worry about because you remain in full control over the alarm system you choose.
Fill-out our quick online form today to start looking for the perfect home security system for your condo or apartment.