Compare quotes for your alarm system to better protect your home from burglars. Fill out the form above to quickly receive your 3 alarm quotes recommended by our team.
Many often think that it happens only to others. Whether you are in Montreal, Quebec, Trois-Rivieres or elsewhere in the province, home invasion and burglary are always potential risks.
The Criminal Code defines breaking and entering as the illegal entry of a person into a home (or property) for the purpose of breaking the law.
Even if the intruder has not damaged anything to enter and has not committed theft, it is still breaking and entering and is illegal.
In 2010, in Quebec, police services identified no less than 53,219 situations corresponding to the definition of breaking and entering (200,000 in Canada). This is the second most common offense, the first being robberies under $5,000 (95,857).
It is highly likely that many of these robberies occurred during a break-in as the objects most prized by thieves are:
Your machinery and tools,
Your computers: your personal information can lead to identity theft; bad luck comes in two's!
Your money,
Your jewelry,
Your electronic devices (radio, television, sound system)
It is wrong to believe that illegal activities are committed in the evening (15 %) and at night (14 %). Statistics in 2010 show that 36% of these offenses take place in the morning while 29% occur in the afternoon, between 6 am and 6 pm.
In private residences such as yours, high-risk periods are from Monday to Friday, specifically from July and December.
All these statistics, in addition to the fact that 80% of break-ins take place in a house or apartment others can occur in your cottage, shed, garage, or trailer) tend to prove that criminals are opportunists who prefer to act in your absence.
Be smarter than them. Surprise them with an alarm system and improve it by being connected to a central monitoring station.
---
How to choose your anti-burglary alarm system?
Several security companies sell, install, maintain, and repair alarm systems in addition to providing after-sales service. But before choosing one, determine your budget and your needs.
Connection with a central monitoring center
By adhering to this service, you are assured that the time between the activation of your burglar alarm system and the intervention time of the authorities will be fast and, therefore, effective.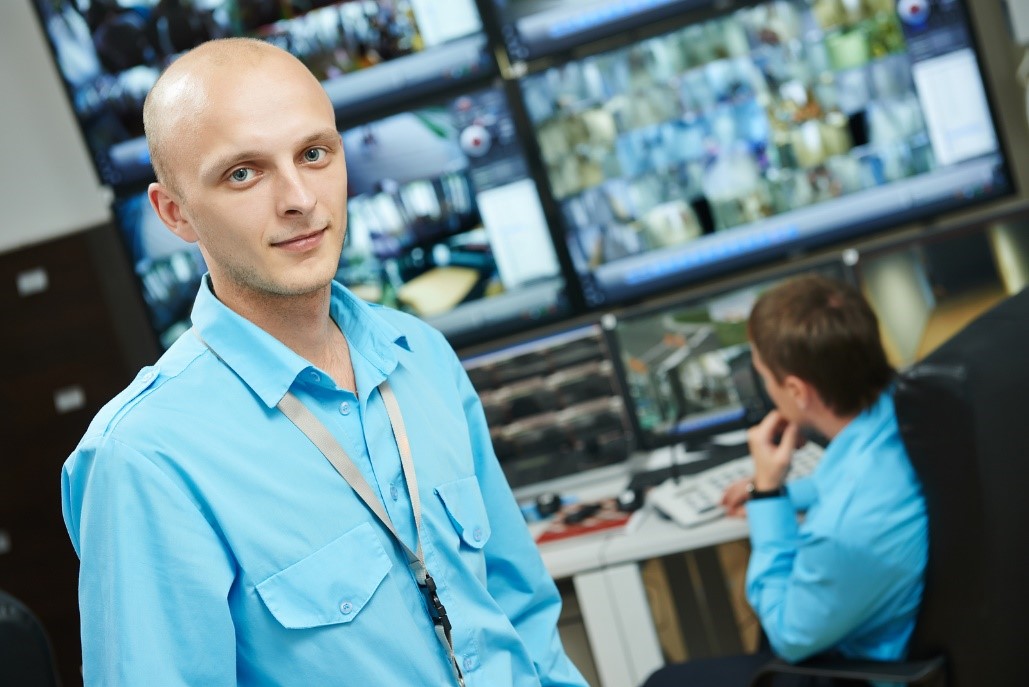 In addition, a central monitoring system multiplies the advantages that your alarm system offers you because:
Being connected to a central monitoring center prevents theft. In fact, the majority of burglars will not enter a house displaying stickers from remote monitoring companies.
You can save on home insurance premiums. Most insurers agree.
The installation of your security system should be free of charge or almost at the signing of a service agreement for a period of two (2) or three (3) years if you are not very greedy in motion detectors and in surveillance cameras.
All of these packages include the panic button that lets you indicate that you are in danger at any time.
Price of packages for central monitoring
Monthly Fee
Package A

Remote monitoring 24/7 against burglaries, intrusion, and fire;
Ability to contact emergency services for free,
Insurance in case of a system break-down,
Maintenance plan

From $25 to $30

Package B

:

Package A plus

Additional monitoring determined based on your needs,
Interactive communication with agents from a central station,
The possibility of transmitting signals via the Internet

From $30 to $35

Package C: Package A and B plus

The ability to communicate with your security system by cellular phone

About $40

Package D: Package A, B and C plus

The management of your security system remotely by computer

About $50
Package E: Package A, B, C, and D plus

The detection of a break-in
An indoor video surveillance camera

About $60
Monthly costs of an anti-burglary security system
Therefore, the monthly fees usually range from $10 to $60, depending on whether you choose:
Extended warranty,
A staggered payment or
A cellular relay.
The duration of remote monitoring contracts
They vary from 1 to 5 years.
Two options: cellular or landline
Your burglar alarm system can be connected to a smartphone by Internet but it requires precise installation.
The initial costs of a burglar alarm system
The initial fees will vary based on whether you are connected by cellular or landline. They generally vary between $1,000 and $1,130.
The warranty period
The basic warranty is usually 1 year. The service plan (extended warranty) is offered for $5 to $10 per month.
What are the types of alarm systems and motion detectors against theft?
The best way to be safe from burglary or home invasion is to use the services of a professional security company for the efficient installation of a residential alarm system that is based on your needs.
The mode of communication between detectors and the control panel
The control panel (the brain) of the alarm system against burglary receives information from the different detectors (the eyes) by:
Wired network

The wires are embedded in the walls,
It is recommended for houses under construction or major renovation,

Wireless network

The transceiver (hertz) and a radio antenna are included in the security system,
Advisable for all existing homes.
Anti-intrusion detectors that trigger the burglar alarm system are divided into two groups:
Volumetric motion detectors
This anti-theft alarm system uses, among others, infrared technology to detect all movement within a pre-established area.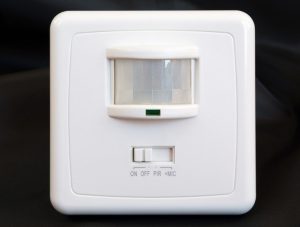 Infrared is an invisible beam which covers an area to be protected over a distance of 12 meters. They are spread over a number of places based on varying angles. In fact, infrared beams are heat detectors that are designed to differentiate between the room temperature and the heat emanating from a human body.
When a person cuts two (2) infrared beams or more, the alarm is activated. That is why motion detectors have optimum efficiency if they are sideways rather than face-to-face.
However, it is not recommended to install infrared motion detectors in porches or facing large windows. Some models, not equipped with filters, are more sensitive to intense light.
It is also better to avoid placing them above a radiant heat source (electric baseboard, radiator).
Finally, it is not recommended to use a motion detector designed for indoor use outdoors, even if it is installed under a shelter. There are specially adapted models to detect intruders outside your home, even before they enter it.
The average price of an infrared motion detector is about $41.00
Dual technology motion detectors
In addition to using infrared beams, motion detectors, also known as bi-volumetric detectors, use microwave frequencies for optimum detection.
Indeed, a microwave sensor can detect, using radar waves, the movements of a body, whether it is hot or cold.
The alarm of this dual technology model will only be triggered if both (2) types of detections (microwave and infrared) operate simultaneously, eliminating the possibility of false alarms.
The average price of a dual technology motion detector is about $ 125.00
To obtain 3 accurate price estimates according to your needs, fill out the form on this page.
Perimeter motion detector
Opening sensors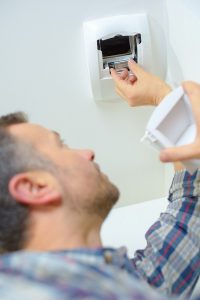 These are magnetic sensors for opening windows and doors. The area can be protected even if people move around.
The origin of the opening sensor is the bell that tinkled when the door of a business is opened. Customers could come and go inside without triggering an alarm. However, each entry (or exit) was indicated by the bell
We are referring to a prompt or partial detector.
Perimeter detectors act as a preventive measure because they detect any intrusion while the burglar is still outside.
This type of detector is reliable, inexpensive, and easy to install. There is a great variety, depending on how it will be installed and the frame on which it will be fixed:
recessed (access door to the attic),
for garage door,
miniature,
with powerful magnetization,
etc.
Indeed, the opening detectors are composed of two (2) parts. The first element, attached to the movable section of the door or window, is a magnet. The second element, installed on the fixed part of the opening, consists of a flexible blade switch (ILS).
Thus, when the magnet is close to the blade, the latter remains in the « closed » position. On the other hand, when the door or the window is opened, the magnet moves away from the fixed part affixed to the door frame. Since the magnetic field is cut, the alarm is triggered.
Glass break detectors
Another preventive element of an alarm system is the detection of an attempted break-in by glass breakage. This type of sensor is defined in two (2) versions.
The acoustic glass break detector
This system uses radio frequencies to detect broken glass. It is, therefore, equipped with a transmitter and a receiver. Some models offer up to four (4) levels of noise sensitivity due to broken glass.
When an object hits a window, the impact creates a low-frequency sound wave. Then, if the glass bursts, high-frequency waves are picked up by the detector. The alarm will only be activated when the receiver receives the combination of the two (2) types of waves.
For example, if a flower vase is accidentally broken, for example, the glass break detector will not be activated because there will have been no shock (low frequencies) beforehand, thus eliminating false alarms.
It is effective for glass
flat,
hardened,
laminated (the system will only be engaged if the two panes are broken),
fortified
The average price of a standard acoustic glass break detector is $65.00.
This type of perimeter detector can, however, be combined with a motion detector. If your alarm system is connected to a central monitoring station, the two (2) detectors, being independent of each other, will be received separately in case an alarm is triggered.
The price of a glass break detector combined with a motion detector is approximately $232.00.
There are also acoustic detectors for glass breakage technology. The latter, wireless, also capture the variation of air pressure in the room (or automobile) targeted by the perpetrators.

The average price of a dual-technology glass breakage detector is $130.00.
Shock glass break sensors
If your door is barred, a thief will gladly enter through an accessible window. The weak points of a house are often glazed surfaces. If you think a particular window is at risk, why not install a passive glass break detector?
This type of detector is attached directly to the glass you want to protect. If a burglar attempts to break through the window, contact with the glass is broken by the vibration or shock. The alarm is then activated.
The average price of a shock glass break sensor is $26.00.
Infrared barriers
Another solution to ensure high security is the presence of an infrared barrier around the outer perimeter or inside your property.
An infrared barrier is designed with two (2) infrared cells, one being a transmitter and the other a receiver. An infrared ray, emitted by one of the cells, is received by the other located at the end of the beam, therefore the barrier. The number of beams emitted is a function of the number of cells (double) of your infrared barrier.
The distance covered by the beams varies between 3 and 40 meters, depending on the model.
The protection of the perimeter of your property or a portion of it (pool areas for example) can be provided by an infrared barrier parallel to the fence surrounding your property. Thus, if an intruder climbs and spans the latter, the multi-beams emitted by the infrared columns placed near the fence, inside your property, will activate the audible alarm (siren) and external lighting, thus revealing his presence.
The exterior protection of your home can be guaranteed by different types of detectors fixed against the wall (s). Indeed, some detectors produce cone-shaped infrared beams while others emit a full infrared barrier (rectangular style). When an intruder attempts to cross any type of infrared barrier, the alarm is activated and surveillance cameras can be activated.
The protection of your home's interior can be preserved by detectors installed at places of passage (entries, corridor, stairwell ) which are clear. If the beams (only one beam per detector, but which widens as it moves away from it) pick-up the presence of intruders, the alarm is activated and, if you are connected to a remote monitoring center, help will certainly be sent to you without delay.
Cost of an infrared barrier
It should be noted that fog, rain, or bad weather can affect the diffusion of infrared rays. The maximum distance between the receiver of an infrared cell and the transmitter of its vis-à-vis can be reduced by half. You will need to consider this fact when counting the number of infrared cells you need if you live in an area prone to rain.
In addition, if you want to connect your infrared barrier to an alarm, it is advisable to multiply by 2 the number of beams, consequently, the cells.
The average price of a set of infrared cells (thus a single beam) is about $75.00.
---
Compare prices for your residential or commercial alarm system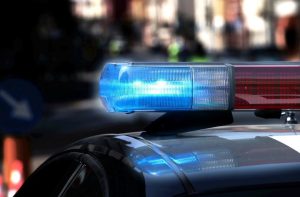 Compare 3 alarm system quotes by filling out the form on this page to receive up to 3 quotes from reliable security companies. You will then be able to make a good choice for the safety of your home and loved ones. It is free and without any obligation.
The partners of 3 Home Protection Quotes are experts in security systems. They know the leading and cutting-edge technologies such as home automation, new technical developments in security systems, sensors, detectors, surveillance cameras, etc.
The organizations that control the quality of the services offered also recognize the expertise of the certified entrepreneurs who have come together on the Web platform of 3 Home Protection Quotes. They are recognized, among others, by:
Bureau de la sécurité privé (BSP), licensees to any security worker such as locksmiths, electronic security system installers and security consultants.
Canadian Security Association (CANASA) which ensures that professionals who hold a certification are honest, reputable, responsible and complies with the Code of Ethics and continuously improves their knowledge and expertise.
Régie du bâtiment du Québec (RBQ) who ensures that the work done is of high quality and that their installations are always secure. It also ensures that professionals who come to install your alarm system possess the necessary qualifications.
Commission de la construction du Québec (CCQ) which ensures that entrepreneurs and their technicians who come to install your security system have the necessary training and adequate skills.
Feel free to contact 3 Home Protection Quotes to obtain a service that will meet your expectations.