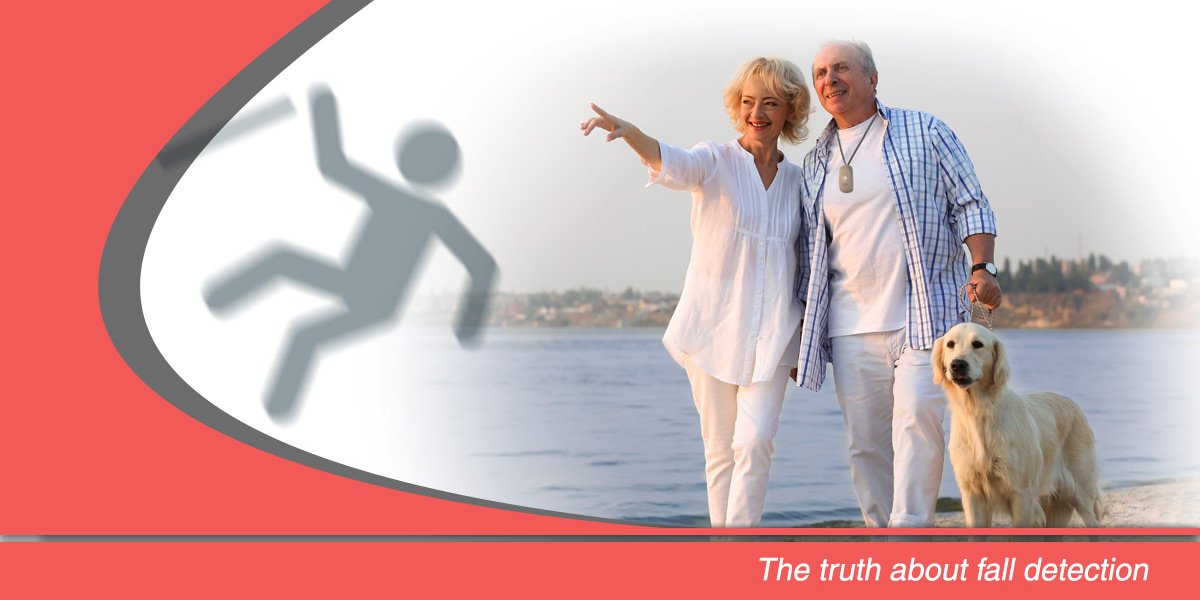 With an aging society, it is vital to design homes for the elderly that ensure their safety.  Three main categories will separate devices that protect the elderly.  Let's take a look at these solutions to understand home security.
These fixed warning systems, otherwise known as "panic buttons", have been redesigned from their original purpose of protecting businesses, hospitals and factories. These alert buttons include wires attached to walls. To activate them, simply pull on a cord or press the button in the center. These systems are generally found in these areas: bedrooms, bathrooms and lounges. You will see it in almost every retirement home in Quebec. Whether connected or not to a central monitoring station, these emergency buttons are suitable for people with reduced mobility or for bedridden patients.
The second personal security system is portable and was introduced in the late 1970s- the emergency bracelet (also in the form of a pendant or a pin that attaches to a belt). Unlike fixed panic buttons, these devices are portable and can be used to establish communication (if you press the button) with a central monitoring station through a telephone line. The range of these personal warning systems is limited to a few hundred feet from the main console located in your home. Normally, the conversation that ensues is two-way (that is, you hear and speak to the agent through your device). If you lose consciousness and do not have time to press the button, no help will arrive.
The third solution detects falls. This technology is also worn by the individual and detects sudden movements like a fall. The combination of the emergency bracelet (or the security pendant) and fall detection technology makes the wearer less vulnerable due to loss of consciousness or to an incident involving a fall.
As in all environments, there are major differences in the quality of motion detection devices which makes their use uncertain sometimes.  A basic model that includes only one accelerometer will treat any increase in speed as an abnormal movement. This will trigger a false alarm.
To avoid these more rudimentary devices, we will be presenting a portable emergency button that can detect falls using more than 190 different parameters that are analyzed in just a few seconds!
Which emergency bracelet is best for detecting falls?
The market for fall detectors is full of prototypes that are too heavy or use experiments that never know the production downstream.  At "boutondepanique.ca", we recently discovered (thanks to our partners who pay attention to new technologies), the mobile medical alert button numera LIBRIS, designed by Nortek.  It combines the qualities desired in a portable alarm system with additional practical features.  Here is a short presentation of this invaluable technology.

| | |
| --- | --- |
| ACCELOMETERS | Equipped with several accelerometers, this fall detector has the ability to differentiate between actual and false falls to avoid unnecessary calls to the central monitoring station. |
| MAGNETOMETER | This feature measures the intensity and direction of the magnetic field surrounding it, adding a dimension specific to the emergency button. |
| GYROSCOPE | This detects abnormal rotation of your body, making this device complete in its data collection. |
| CLASSIFIER | If your emergency button numera LIBRIS perceives an abnormal activity due to its numerous sensors, the data is sent through a cellular network to the monitoring center.  It will analyze the results. |
| OPERATION | If the device determines that a fall has occurred, an automatic call is made to a specialized agent. 2-way communication through your emergency bracelet / pendant is activated. If you are unable to speak, appropriate help will be dispatched to provide assistance. |
| RESPONSE TIME | Between 30 and 45 seconds between a fall and communication with an agent. |
| THE SCOPE OF THE DEVICE | Featuring wireless and cellular (3G) technology, the LIBRIS emergency button will work almost anywhere, as long as you're within the range of the cellular network (your device will keep you informed of signal strength). |
This personal emergency system Numera Libris alarm is perfect for people who are:
Pregnant
with heart conditions
with Diabetes
have balance problems or difficulty in moving
have mental or physical disorders
suffer from obesity
Etc.
In addition to detecting falls accurately, the emergency bracelet will allow Libris to add biometric information to a database for sharing health information called Numera Net. Using this software, you manage who will regularly receive updates from a scale, blood pressure meter, and oximeter.  You can also decide if these individuals are entitled to access your account and if messages will be sent to them by SMS or by email.  With the help of a sophisticated geolocation system, rescuers can find you no matter where you are, whether you are conscious, or not.  You can also change the volume of voice alerts, check battery level, and even signal strength from where you are.
How to compare prices for the mobile personal alarm system Numera Libris?
Now that you know which medical bracelet/pendant provides the best protection, you can also find the best offer and avoid paying too much.
Using our online form, you can ask our network of experienced partners (all experts in the field of security) who can offer you the best price.  They can advise you and even install a panoply of panic buttons (including the emergency wristband Numera Libris from Nortek).
Fill-out the form (it's free and will only take two minutes) specifying your needs. As soon as possible, 3 quotes will be sent to you. Choose the one you like the most and save today!