Have you postponed getting an alarm because you are worried about the cost?
Don't be. Today, you have many choices of DIY and wireless home alarm systems that are cheap and easy to install.
Admittedly, traditional home security systems offer a lot of significant advantages but they are not for everyone. Some homes may not have landlines or homeowners and renters cannot do any drilling on walls.
The good news is that some do-it-yourself alarm systems provide consumers with cheaper options that don't require drilling and can be done DIY.  This means you save on professional installation costs.
Various alarm companies offer DIY, wireless alarms with advanced features that you can install yourself.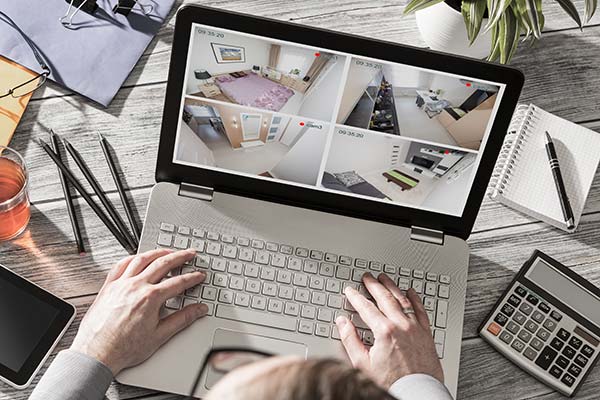 How to Shop for DIY Home Alarm Systems
You can also find many DIY alarms in retail stores that are inexpensive.  You can find cheap alarms, nanny cameras, and other detectors in retail stores, hardware stores, and online. But it is better to buy from a professional alarm company and here's why.
If you intend to get monitoring service, you need to be sure that your devices are compatible with their technology.
Monitoring service means someone is checking on the status of your home security system 24/7, no holidays or breaks. Why is this important?
A home alarm system is only good if there is a responsible person monitoring it.  Even if your burglar alarm goes off, if nobody reacts to the alarm, nothing may happen. Your neighbor won't always be around to do it for you if you are away.
Unless you don't want a monitoring service, it is best to get your DIY security system from a reputable residential alarm company.  You can also obtain other significant security benefits such as video surveillance, home automation, and round-the-clock assistance.
Get 3 free home alarm quotes to compare in order to find the best alarm system for your home.
The Family Dog Needs More Help Securing Your Home
You may think that the family dog, particularly a ferocious one, is enough protection for the home. However, burglars also know how to deal with dogs. Further, there are other risks that put you and your family in danger, aside from burglary.
Dangers in a home also include:
Many do-it-yourself home security systems available in retail stores don't offer advanced features such as motion sensors, panic buttons, and carbon monoxide detection.  And cheap alarms that homeowners install themselves may not work properly if not correctly installed. If the alarm fails, the consumer is responsible for replacing the alarm.
The bottom line: if you want a DIY home alarm system, connect with leading alarm providers that offer DIY and wireless alarms that are more reliable than store-bought ones.  Further, consider the significant benefits of professional home monitoring services and their fees.
Not A Techie? DIY and Wireless Systems Easy Enough for Dummies
Whether you enjoy DIY projects or completely a novice, you can find home security solutions that are easy to install and light on the pocket.
Today, modern DIY home alarm systems are quite straightforward and easily integrates in a number of ways with home automation that even complete beginners can manage.
Some alarm companies like FrontPoint are completely wireless and don't require professional installation. If you have problems, customer service can walk you through the process of installing your devices.
To understand a little more, let's go over some of the components of a home alarm system.
Important Components of a Home Security System
Home alarms have 2 major components: sensors that trigger alarms and surveillance.  These means devices that include alarms, security cameras, door sensors, window sensors that are all connected to a control panel.
Control Panel
This functions as the brain of your security system and receives signals from all your devices to provide necessary alerts and updates.
Doors and Windows Sensors
These sensors provide alerts in the event of a disruption, breakage, or vibration when someone tries to enter your home.  The cost of your home security system depends on the number of sensors needed.
When you obtain a free home alarm quote, the package would indicate the number of sensors included.  Additional sensors would mean an additional charge.
Motion Sensors
Depending on the package you choose for your alarm system, you can have motion sensors installed that trigger an alarm when unusual movement occurs in areas of the home.
Security Cameras
While security cameras can't prevent burglary, they are essential because they allow you to monitor what's happening in your home 24/7.  It also allows you to check on kids, pets, and the status of your security system from anywhere in the world.
Siren
A screeching sound is emitted in the event of a break-in to scare off burglars and alert the police.  In case of an unmonitored system, you or a neighbor needs to call in the alert for police response.
Yard Sign
If you buy your alarm system from an alarm company, a yard sign is provided to inform that your property is protected by a security system. It may seem like a minor detail but research shows that a yard sign is an effective deterrent against home invasion and burglary.
Professional Monitoring
Major alarm companies offer DIY alarm systems with professional monitoring services.
The additional cost of a monitoring service is quite small. You can enjoy the benefits of maximum protection for as little as $20 a month.  When you sign-up for a monitoring contract, usually 2-3 years, you can take advantage of free use of alarm equipment or no upfront payments.
Unique Security App
When you sign-up for home security with a professional alarm company, you will be given access to a unique security app which allows you to monitor your alarm remotely.  Some major alarm companies have proprietary, interactive apps for their customers that are tailor-made to their system and technology.
Wireless Communication of Devices
You can choose to have an alarm that is hardwired to a cable or a landline. But a major risk here is when thieves cut the cables and leave you exposed.  This is particularly true for security systems without professional monitoring.
Nowadays, homes can be protected by alarm systems that operate wirelessly and allow you to monitor from your device.
You will need to have security devices that are compatible with each other.  In order to have a fully integrated and working alarm system, all cameras, sensors, and alarms must use the same protocols for communication.  One popular protocol in use today is Z-Wave technology.
This makes it vital and more practical to buy your wireless and DIY home security system from a reliable alarm company.
Get a Home Security System on the Cheap
With a better understanding of home security systems, you can now have your own home alarm without breaking the bank.
If you decide to buy from retail outlets like Amazon or your friendly neighborhood store, you could spend a minimum of $200 for a very basic alarm to around $500 for a more functional system.
Spend $100 in a store for alarm equipment and you get exactly that – home security that provides limited and cheap home protection.
You will need to independently manage and monitor your security system and for the most part, provide the appearance of adequate security.  That could work until an expert burglar figures out the weaknesses of your security system and successfully breaches it.

But did you know that you could spend this same amount or even less and have a completely legitimate security system from an alarm company?
By going completely professional, you won't be guessing at any moment whether your alarm system is working or if it is enough.
And most importantly, you get all the needed protection not only from burglary but from fire and smoke as well as carbon monoxide.  You can also upgrade your security in line with your changing needs.
Quick Peek at what Professional DIY Alarms Cost
There are several large alarm companies in Canada offering affordable DIY home security systems.  The cost of your security system depends on a number of factors.  In general, some companies offer low to no upfront costs but require a multi-year monitoring contract while other companies offer initial installation cost with free equipment.
Below is a quick peek at what these DIY alarms could cost you.
FrontPoint
Completely DIY alarm systems from FrontPoint can help you save on installation costs.  This makes it convenient for people who frequently move as such the military as well as renters.
Their alarms are completely wireless and removable thus very easy to install.
You can choose from 3 alarm packages and get features such as intrusion protection, fire protection, life safety, live video streaming, motion-activated alerts, and home automation.
The company covers cost of shipping and offers 100% risk-free trial.
Their monthly alarm packages start at $34.99 to $49.99 for their most comprehensive package.  With a 3-year monitoring contract, you can purchase equipment for as little as $99 to $449, with a discount for purchase of equipment.  They also offer a shorter contract of 12 months.
Protect America
Protect America is available only in 3 Canadian provinces – Ontario, British Columbia, and Alberta.
It doesn't have the large consumer base of ADT but it offers one significant benefit – $0 upfront cost and completely DIY installation.
On the downside, their monthly monitoring packages are slightly higher than other home security systems.
You do have a choice from 5 different packages which offer varying equipment but the same quality of service.  You will need to sign up for a 36-month contract.
Their lowest monthly package (Copper) is $19.99 while their most expensive (GOLD) is $42.99.  To upgrade to the next package could cost as little as $2 to $5 difference in monthly cost.
You can choose from landline, cellular, or broadband communication.
Link Interactive
This company offers completely wireless and state of the art equipment with DIY options.  You'll find a package that suits your budget from among their affordable plans.
You are also able to fully customize your system but they offer only 1 base monitoring fee of $35.99 plus $5 if you want video monitoring.
You can save on installation costs and activation costs with equipment from high-end brands of your choice.
Choosing Between DIY and Professional Installation
Are you handy with DIY projects? Do you have the time to install your security system? Do you feel confident about your ability to set-up your home security system? These are questions you can ask yourself when choosing between a DIY or professionally-installed alarm system.
Professionally-Installed Alarms: The Pros and Cons
There are alarm companies such as ADT that require professional installation. While they may charge a one-time installation and activation fee ($99 for ADT), you do get some significant benefits in return.
Peace of Mind that your Alarm is Properly Installed
Convenience
Professional Instructions how to Operate the System
ADT does not offer DIY options but it has over 140 years of experience and the most number of monitoring centers.
For selecting a home security company, other factors to consider are:
✓ Equipment cost
✓ Alarm features
✓ Reliability
✓ Customer service and experience
✓ Length of contract
✓ Alarm company's reputation and brand
Understand your Needs and Your Home Alarm Options
Home security is vital to all homeowners. Thus, it is critical to understand your home security needs and the best options for your alarm system.
When shopping for the most affordable and effective alarm system, it pays to educate yourself before you buy. We have prepared the Top 20 Consumer Questions about Home Alarm Systems to help you understand and make better choices.
Before you buy a DIY alarm system, compare free home alarm quotes to save time and money.
Compare Free Home Alarm Quotes for your Home Alarm System
Deciding which alarm system is best for you can seem like a daunting task.  To save you time and money, we want to help you choose with free home alarm quotes from leading Canadian alarm companies.
It is much easier to choose and buy the right home security system when you have several options at hand. Whether you wish to get a DIY system or a professionally-installed one, we can help.
Our partner alarm companies can provide you with free and competitive alarm quotes to suit your security needs and budget.
Take 2 minutes today to fill-out our online request form to receive 3 home protection quotes for you to compare.
In the end, you want a home security system that provides you and your family with the best level of protection you can afford.
After all, there is no price tag for your safety and peace of mind.