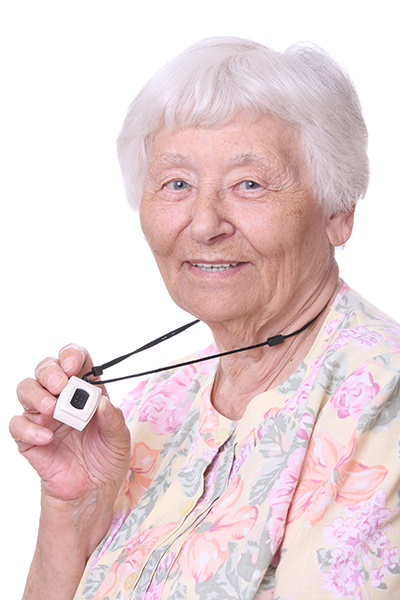 Everyone wants to enjoy freedom and independence. Unfortunately, many people live with a medical condition or mobility problems that make it risky and dangerous to live alone.
Even individuals convalescing from an illness or surgery who are left alone at home at certain times are at risk.
One very effective and affordable solution to this problem is fall detection systems. Conventional medical alerts come in the form of a pendant or a button that an individual can press in order to get help.
If you worry about a loved one falling and getting hurt with nobody around to help, or an elderly person living alone, these medical alerts are highly effective and can save lives.
Learn how these systems can benefit you or a loved one and find the best medical alert system for seniors in Canada.
Guaranteed Medical Assistance During a Fall, Accident, or Medical Crisis
Falls are a major cause of injury and death among older adults. A medical alert with fall detection technology increases the chances of your loved one receiving medical assistance immediately.
It is critical that help arrives at the soonest possible time. For a senior who is alone at home, a fall alert detector can ensure help is just a push of a button away.
Does a Loved One need a Medical Alert System?
Many seniors and older adults prefer to live independently despite health challenges.
Medical alert systems offer a lifeline during emergencies. In case of a stroke, a heart attack, an injury, an accident or a fall, pushing a button immediately connects to people who are trained to help.
There is no price for peace of mind. You can feel safe and secure alone at home knowing that you can always get help with your panic button.
Some medical alert systems are wireless and don't require a landline. If you are shopping for a medical alert system for a loved one, obtain free quotes to save on costs.
What is Fall Detection?
The elderly is at higher risk for falls. When an elderly person falls, it is highly possible that he cannot come to the phone to call 911. Your loved one may suffer an injury, or even become unconscious.
In times like these, it is critical that help arrives at the earliest possible time. A medical alert system can tell the difference between a normal action or a fall.
According to the National Institute on Aging, more than 1 out of 3 seniors 65 and over fall every year. Many such falls occur in dangerous places in the home such as the bathroom, stairs, and the kitchen.
A simple fall – slipping on the bathroom floor, tripping over a rug, or sliding down the stairs, can change your life. It could lead to broken bones or a fracture which can be the start of more serious health problems.
If a senior falls and loses consciousness or can't get to a phone, who will come to the rescue?
Fall sensors can identify the position the individual is in and the speed of movement. This feature allows a monitoring center to determine when emergency assistance may be needed.
Live without Fear with a Fall Detection System
Many seniors fear falling, especially those who have experienced it. Some many start to avoid activities like shopping or walking.
There is no need to let fear run your life. You can lead an active life and do things you enjoy outdoors to maintain good health. A fall detection system will ensure that someone is within reach to help in case something happens to you.
Choose Medical Alert Systems with Fall Detection Feature
There are various medical alert systems offered in the market. Basic packages may not come with fall detection.
Fall detection is an additional feature in most medical alert systems. With 2-way voice system, monitoring professionals can verify any emergency and summon help in a timely manner.
Automatic fall detection is built into a pendant or bracelet that may be worn even while sleeping. Are you wondering how the system can tell if a person has fallen? They have accelerometers similar to your smartphone or iPhone. You'll notice how your phone's screen changes when you move it sideways.
Medical alert systems use the same technology for fall detection. It helps to reduce false detections and increase accuracy.
Reasons to Get Fall Detection
With various choices in medical alert systems, you'll find that fall detection systems are a bit more expensive than basic medical alerts. When should you get a system with fall detection?
Below are some questions that can help you with your choice.
✓ Have you or your loved one ever fallen?
✓ Are you or a loved one living alone?
✓ Does the home have stairs in the home that you or your loved one use?
✓ Do you or your loved one walk with a shuffle?
✓ Do you or your loved one have a medical condition such as diabetes or other that makes you prone to dizziness or fainting?
You can consider your answers to these questions carefully to know your needs or that of your loved one. Think about the home environment and the amount of time someone else is in the home to help in an emergency.
We know that cost is a major factor to consider. Fall detection systems are quite affordable and offer powerful protection to ensure medical assistance when you need it.
Is fall detection 100% accurate?
Most medical alert system providers will concede that this new technology is not 100% accurate. Not all falls can be detected and some can be false detections.
However, 90% of users state that false detections are few. Major providers have added safeguards to false detections such as:
✓ Cancellation of a fall detection by pushing the button within 30 seconds
✓ Verification by 2-way voice communication
If a person falls, he has easy access to a button that communicates an emergency, either to a family member or a trained professional.
How Fall Detection Works
There are several companies offering medical alert systems with fall detection technology. It can sense a fall from two feet or less. If a person falls off a sofa, the sensor sends an alert.
Medical alert pendants or bracelets are waterproof to allow you to wear them while you take a shower. They should never be taken off or be far from your reach.
Once a fall is detected, an alert is sent to a monitoring center. The individual wearing the medical alert has a few seconds to cancel the alert by pushing a button. The monitoring center will also use the 2-way voice communication system to verify if the individual needs assistance. If unable to verify, emergency support services will be sent to the home.
Signal for Help in Emergencies
During emergencies, you can signal for help using your medical alert pendant or bracelet. Trained professionals will contact the proper responders – fire, police, or emergency personnel. This ensures you get fast response when you need it.
You can choose a medical alert system that works indoors and outdoors, up to 300 feet from the base unit. GPS capabilities inform a monitoring team where you are.
Simple Ways to Prevent Falls
Why do older adults fall? Failing eyesight, poor hearing, issues with reflexes, balance, nerves, and feet can cause falls. Certain medications can also cause drowsiness, dizziness, or nausea that could cause someone to fall.
In addition to wearing a medical alert system with fall detection, you can take simple steps to prevent falls.
Take steps to correct hearing problems and poor eyesight. Wear your hearing aid and eyeglasses when moving around the home.
Get proper amount of sleep. Lack of sleep can make you drowsy and cause you to fall.
Limit alcohol consumption. Alcohol can affect your reflexes and cause drowsiness. Studies show that the risk of falls increases with alcohol consumption.
Avoid walking on wet surfaces like icy areas outside your door.
Stay active with the right amount of exercise.
Using an emergency response system such as medical alerts with fall detection is a very useful safety measure to take. Find out more about medical alerts and fall detection features with free quotes from top alarm companies.
You can learn more tips about how to fall-proof your home and stay safe from the National Institute on Aging.
Stay Active and On-the-Go with Medical Alert Systems
Being older doesn't mean you can't enjoy life. If you are worried about getting into an accident, falling, or getting injured with nobody to help, there's always a medical alert system to help.
You can continue to tend your garden, walk your dog, enjoy the sun and fresh air, and have peace of mind that someone is within reach.
There are wireless medical alert systems for those without a landline. You can continue to live an independent and active lifestyle.
24/7 Lifeline with A Bracelet or Pendant for Total Convenience
It is important for a medical alert system to be within reach at all times, even when lying in bed. Fall detection comes with bracelets or pendants that should be worn 24/7. Because they are lightweight, they can be worn conveniently and comfortably.
Important Features of Top Medical Alert Systems
What should you look for in a medical alert system? It is important to know these so there is no room for regret.
Medical alert systems must be convenient to use, lightweight, and most importantly, waterproof. This ensures that a senior or older adult who needs protection will never have to take it off.
Most medical alert systems are pendant-style or bracelet-style. Seniors can be fussy and don't want to wear something that makes them look foolish. Design is also important to consider.
A medical alert system must have a communication system. It must allow for someone to be notified of an emergency if the panic button is pushed. Will the alert be sent to a family member or to a monitoring center?
A medical alert must also have a 2-way voice communication system. This allows the monitoring center to conduct verification of an emergency before responders are sent to the home.
You can also look for a medical alert system with no long term contract.
Compare 3 Medical Alert Systems with Fall Detection
Medical alert systems have become quite popular among seniors. They have enriched many lives and given peace of mind and new-found independence.
Take a look at some of the most popular medical alert systems available in Canada. Consider their cost and benefits to suit your needs and budget.
ADT Offerings with Fall Detection
ADT offers two options. The ADT on the Go is an advanced medical alert with mobile, GPS location, and fall detection features. It is ADT's most expensive offering. The good thing is that it comes with a locked-in rate of $39.99 monthly forever.
The pendant has 2-way communication that allows the person wearing it to speak to a representative at the push of a button.
Medical Alert Plus also has fall detection but has no GPS location and no mobile feature. It is cheaper at $35.99 monthly, also at locked-in rate.
ADT's basic and cheapest medical alert system is less than $30 a month. It does not have fall detection, mobile feature or GPS location. It is good for seniors who are not at risk for falls but want emergency response services. It can connect you to emergency services and to a base intercom if you are within 300 feet of the console.
Lifeline Medical Alert
Lifeline is one of the most popular medical alert systems in the country. This personal emergency response system offers complete peace of mind.
Many seniors who fall fail to push the button of their medical alert system due to a state of confusion, dizziness, or unconsciousness. With Lifeline, the system can automatically detect a fall even if you don't push the button.
The company offers several options. The Home Safe with Auto alert package comes with automatic fall detection feature. It also comes with 2-way voice communication. Monthly fees start at $36 a month, equipment included.
The Go Safe package has fall detection, 2-way voice communication, and a mobile system with 6 location technologies.
LifeCall Medical Alarm
Lifecall is a wireless personal medical alarm featuring wireless technology. It comes with 2-way voice communication and a personal help button or medical bracelet.
As a division of ADT Canada, it offers this senior monitoring system for peace of mind.
Their medical alert systems act as a speakerphone when you press the button. If you cannot speak, their trained operators will quickly send help.
The company offers Lifecall rental option for a low price of $39.95. Customers can also obtain additional pendants with fall detection for $15 a month. This rental option is perfect for persons who need a medical alarm while recuperating or for a limited period of time.
Frequently Asked Questions About Senior Medical Alert Systems
Now that you have seen the benefits of a medical alert system for yourself or a loved one, you may need answers to questions so you can decide.
Below are answers to frequently asked questions about medical alert systems and fall detection systems to guide you in your search.
How much do medical alert systems cost?
The cost of your medical alert system depends on two things – the type of system you buy and your choice of provider.
Some companies offer basic packages including fall detection for $36 and up. ADT offers basic medical alert system without fall detection at a lower price and has packages at a slightly higher price that features GPS and fall detection.
Can I cancel my medical alert system?
Most medical alert systems in Canada, including ADT, are on a month-to-month subscription and can be called at any time.
How do I install a medical alert system?
Most medical alarm systems are wireless and for self-installation. Customer support is also available to walk you through the process. Some companies provide professional installation at your request for an additional charge but majority of people don't need it.
How far do medical alert systems reach?
Most medical alarm systems have a range of 200 to 300 feet. There are more advanced systems such as the ADT Medical Alert Plus that has a range of up to 600 feet.
Will a medical alert system work outdoors?
Keep in mind that basic medical alert systems will send help to the home. If you want it to work outdoors and to get medical response outside the home, consider getting a system with mobile and GPS features.
Can I take my medical alert system if I move?
Most medical alert systems are wireless and therefore portable. You can inform your alarm provider and arrange for the transfer.
Consider your needs when looking for the right type of medical alert system. If you often visit friends, go shopping, or work outdoors, your options include mobile medical alert solutions with GPS locators.
Find The Right Fall Detector for the Best Price
We understand that you want to look for the right fall detection system at the best price.
It is important to compare the best medical alert systems for seniors. You can request for free quotes from our partner alarm companies to choose which works best for your situation.
While we try to provide the most accurate information, it is advisable to ask more questions from the company you choose so you can understand your options better.
To get started, you can compare costs and features with multiple medical alarm quotes. Our service is free and no obligation and can simplify your search.
Take 2 minutes to fill-out our quick online form and receive more details about pricing from leading Canadian alarm companies.