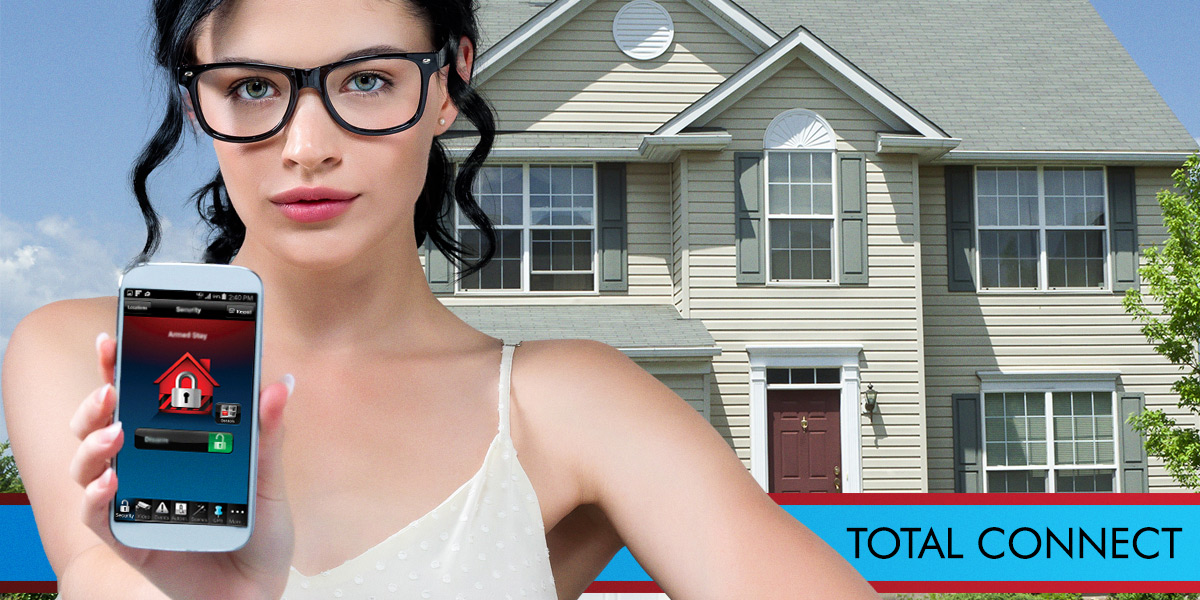 Are you very busy most days?
You have to take the children to daycare or school, go to work, accompany them in their activities, do your shopping, etc.
Amidst all this frenzy, you still want to have peace of mind regarding the security of your home where you expect to have some well-deserved rest.
Control of your home is the principle that inspired Honeywell's Total Connect.
It offers remote monitoring of your home to make it safe and comfortable, whether you're alone at home, with friends or family, or away from home.

The benefits of choosing Honeywell Total Connect remote monitoring
Honeywell's Total Connect remote monitoring system lets you know if your loved ones and /or your home is threatened by:
Fire,
Intrusion,
Carbon monoxide,
Water leaks,
Etc.
You can have, at your fingertips, control of the security and comfort of your home with technologically-advanced software:
✓ LYNX Touch 5100, 5200 or 7000,
✓ LYNX Plus as well as its products,
✓ VISTATM: Tuxedo Touch ™ and VAM.
Remote access for home security is made possible by the following platforms:
IOS ™ (Apple) and Android ™ smartphones, through:

the Honeywell Total Connect app or
the Honeywell Total Connect website,

your tablet
your laptop
your office computer, and
your Apple watch.
Find out more about Honeywell residential security systems and have peace of mind 24/7.
Who does Honeywell Total Connect remote monitoring benefit?
If you are a professional and often have to be away for long periods of time, you will most likely want to keep an eye on your home during your business trips.
Honeywell's Total Connect remote monitoring may also be of interest to you if you live in a luxury residence or condo, as you are more likely to be targeted by unscrupulous people.
If you have a second home or if you have a cottage located in a more remote area, you can benefit from a remote control and monitoring system to manage the indoor temperature before your arrival and a host of other features.
In fact, Honeywell's Total Connect remote control and monitoring system is for all users who want to:
Receive alerts in case of disaster,
Watch video images captured by the security cameras (10 seconds duration),
Control their security systems remotely,
Be informed of the arrival of the children at home,
Adjust the thermostat,
Control the lighting system,
Lock or unlock doors remotely,
Etc.

What are the features of Honeywell Total Connect Remote Monitoring?
The following list of the features offered by Honeywell's Total Connect is non-exhaustive. With a few exceptions, the features mentioned can be accessed by LYNX or Vista software.
Remote monitoring and control with Total Connect

These functions allow you to:
Arm and disarm your security system,
Receive emails or text messages on the control panel of your home about:


Activated and deactivated components,
The alarm system,
The state of the battery,
Possible system problems,
Loss of electricity

Review the 90-day history of security events (or up to 100 MB),
To access the surveillance of several places at once such as:


Your main residence,
Your secondary home,
Your business,
stc.
Automation or intelligent scenes
Through programs that you have previously set up for your desired security and lifestyle (schedule), Honeywell Total Connect allows you to support one or more of the Z-Wave® compatible devices such as:
lamps (40),
thermostats (3 – LYNX Touch 7000 allows 4); and
door locks (4),
This remote monitoring is available through mobile apps or the Honeywell Total Connect website.
The system can manage up to 20 automated scenes, in addition to the scenarios associated with the software used, the amount of which varies between 10 and 30 of these so-called local scenes.
Honeywell Total Connect Information Service
This service allows you to inquire about:
the weather forecast for the next five (5) days (update twice a day)
the weather warnings issued,
news (not available on Vista),
traffic updates (not available on Vista)
Advanced Protection Logic (APL)
Only available through LYNX Touch 5100, 5200 and 7000, this service ensures that if your security system is turned off during a violent theft incident, an alert will still be transmitted to the central monitoring station.
Two-way voice communication
LYNX Touch 5200 and 7000 (and over the Internet and Wi-Fi) also allows you to communicate with a Central Station personnel after the alarm has been triggered.

Vista software also offers this feature, but a particular application is required.
Honeywell's Total Connect remote monitoring: how does it work?
Honeywell's Total Connect technology gives you greater control over your home security and superior comfort by using the platform of your choice. Even your Apple Watch can serve this purpose.

No more worries about:
leaving a door unlocked
friends that your child brings home after school.
Since a picture is worth a thousand words, we suggest you watch the short video below.
This video sequences will still show you how easy it is to use Honeywell Total Connect.
You can get the Total Connect app now for free:
The benefits of using Honeywell Total Connect 2 App
No matter where you live, you must protect what is important to you.
Protecting your home and your family matters more than anything. This is Honeywell's principal goal for its security systems.
However, the acquisition of a security system and the management of it are two very different concepts.
Honeywell's app, the Total Connect (2.0), delegates the management and control of your security system as well as compatible Z-Wave devices to your mobile device (thermostats, lighting, locks, etc.).
You will now be able to rescue your teenage son who has forgotten his keys by unlocking the door of your home remotely to let him in with the help of the system.
If the cat inadvertently triggers the system, you will also be able to turn off the alarm, no matter how far away you are at the moment.
There are many other ways to use it conveniently.
You will also be able to watch live videos from your security system or hear alarms during events such as moving precious objects, sudden detection of movements, or extreme changes in temperature.
The app will provide you with many options for security and control. You only have to download it to protect everything that matters to you no matter where you are.
Download this for protection:
Get up to 3 free, no-obligation quotes for Honeywell Total Connect Remote Monitoring
If you are interested in Honeywell's Total Connect remote security and control system but want the best service with affordable equipment, 3 Home Protection Quotes is the tool for you.
By filling out the request for quotes on this page, we will send it to professional and reputable security companies specializing in alarm systems for many years.
Up to 3 alarm partners will return a free quote
Whether you live in Quebec, Montreal, or elsewhere in the province, all you have to do is choose the offer that meets your requirements.
3 Home Protection Quotes will help you find the Honeywell Total Connect remote control and monitoring system you need easily and quickly. Get in touch with us. This service is free and no commitment is required.
Take care of your safety today!