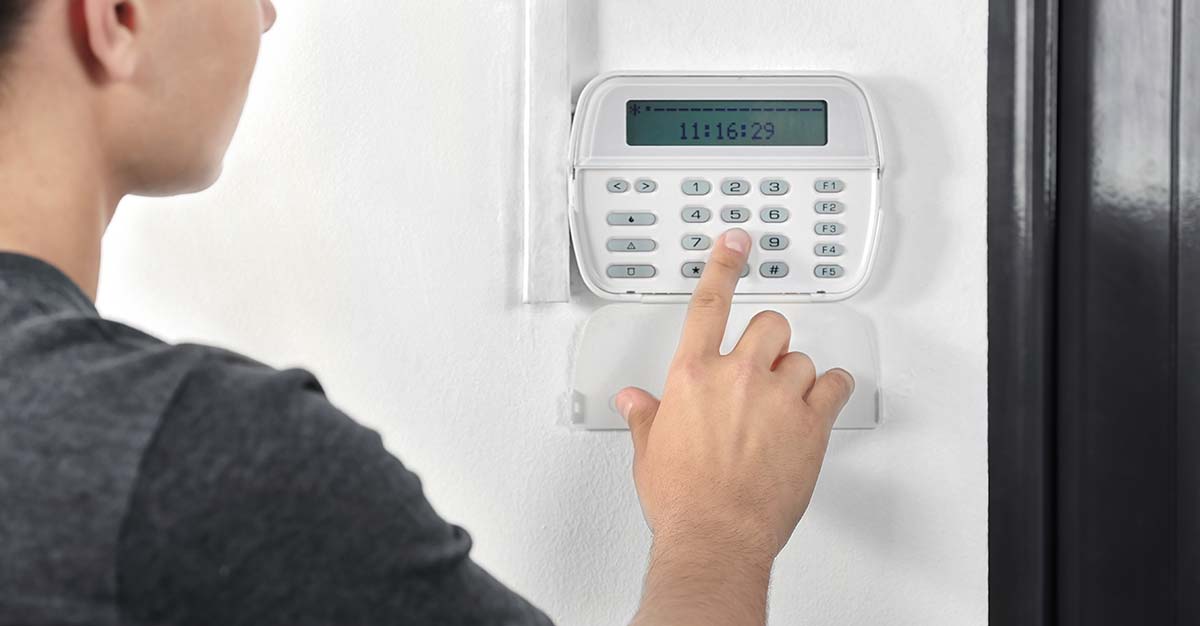 If your home still has no home security system, 2018 is the year to do something about it.
Homes without an alarm system are easy targets for burglars.  It also leaves your home vulnerable to fire and other perils.
It is advisable to review your current home security and upgrade it with a residential alarm system that provides you with the best protection you can afford.
Increase your home's safety in Montreal with winning residential security systems. Our partner alarm companies also serve other cities in Quebec including Trois-Rivieres, Quebec, Laval, Longueuil, and Gatineau.
How to Choose a Good Home Security System
In finding a good home security system, you must look at some important criteria.
When choosing from among home alarm systems in the market, you must look at the following criteria:
Price
Customer service
Alarm Features
Set up and Installation
Look Beyond Price for Higher Reliability
Most consumers use price as the deciding factor when buying a home security system.  While price and affordability are certainly critical, customer service and alarm technology and features are also equally important.
A cheap security system that fails to adequately protect your home and family could cost you much, much more in the end.
Although Canada is one of the safest countries in the world to live in, there are some places like Dangerous Cities in New Brunswick that increase the need for better home security.
Winning Features to Look for in a Home Security System
Not all home alarm systems are the same. Each one offers distinct advantages and disadvantages that you should weigh in order to make the best choice.
Consider these important features when choosing a home security system.
1. Wireless vs. Hard-wired Systems
When shopping for a home security system, you need to decide if you want a wireless system or a hard-wired alarm system.
Pros and Cons of Wireless alarms
Wireless security systems generally allow for DIY installation.
They are perfect for homes without a landline.
Wireless systems are also ideal for renters who can't drill holes in walls.
Wireless alarms systems are on-the-go systems and can easily be moved.
They also work even where there is no power.
There are some disadvantages to wireless systems. They require more vigilance from homeowners in terms of maintenance.  You must replace batteries when needed to ensure the alarm works properly.
Many people further argue that wireless systems are not as reliable as hard-wired systems because signal interference can lead to false alarms.  Poor signal in your area will also be a major issue in terms of performance.
There are, however, some major alarm companies offering wireless systems that require professional installation.  These companies include ADT and Vivint.
Pros and Cons of Hard-Wired Systems
Hardwired systems need professional installation.  Sensors are connected to the control panel by wires. Because wiring and drilling is required, it is not an option for apartment renters.
Some of the advantages from hard-wired systems include:
Higher reliability
Easier to maintain and troubleshoot
More difficult for criminals to disable
If you have just bought a home with a wired home alarm system, you should take advantage of it by re-activating the system.  You also have the option to upgrade your alarm devices.
Hardwired systems also have drawbacks.  They require a landline and are difficult to move if you are changing residences at a later time.
Most consumers have a combination of wireless and hardwired systems.  Because hardwired systems are professionally installed, you have peace of mind that your alarm's sensors and devices are correctly positioned and working well.
Cost of Professional Installation
As mentioned earlier, even wireless systems are sometimes professionally installed. In these cases, some providers may charge a one-time fee for activation and installation.
For instance, ADT charges $99 one-time customer installation fee for 36-month monitoring contract.  A professional technician installs your system and ensures the alarm is correctly installed.
2. 24/7 Professional Monitoring
It is important that a home alarm system is efficiently monitored because a timely response to an alarm is essential for preventing loss of lives and property.
Professional alarm companies provide alarm packages that include monitoring services. It is important to choose a company that has reliable monitoring for the right price.
Larger alarm companies like ADT have monitoring centers nationwide.  This is a big advantage in case a local disaster compromises electricity, phone or internet services in your area.
Check if the alarm company has UL listed 5 diamond certified monitoring centers which assures customers that their team is among the best in the country.  Alarm companies that fall in this top-notch category include ADT, Think Protection, and Alarm Force.
This criteria is very important as it is difficult to switch or change the alarm monitoring company if you are in a long-term contract.
3. Customer Support
A good alarm provider offers reliable and convenient customer support such as chat, email, or phone options.  Check customer reviews online to see what their customers have to say about the quality of response time and complaints handling.
4. Pricing and Affordability
We know that price is very important when choosing a home alarm system.
Some alarm companies give you the option to finance your equipment over a certain period of time. You may also have the option to pay upfront for your equipment so that you only pay for monthly monitoring fees.
One of the more popular options provided by alarm companies is free use of equipment over a locked-in period from 24 to 36 months.
Under this option, you don't own the equipment and will return it to the company upon termination of the service but you don't pay any huge upfront costs.
5. Alarm Technology
Each alarm company would have a different alarm technology.
For instance, Frontpoint has Z-wave compatible technology and Crash and Smash protection. It has a wide range of packages with monitored door and window sensors as well as home automation features.
Vivint has state-of- the-art technology and is big on home automation. Their system allows you to control door locks, lights, security cameras with your smartphone.  One of their popular security equipment is the Vivint Doorbell camera.
ADT is a popular alarm choice in the US and Canada. It has ADT Pulse which lets you control garage doors, lights, locks from your smartphone and uses technology and equipment of Honeywell, a manufacturer of high-end security products.
If you decide to switch companies later, existing alarm equipment need to be compatible with the new company's system which is not always the case.
Top Alarm Systems in Ontario, Quebec, and New Brunswick
There is so much information about home security systems out there.  To save you time, we have listed the best alarm systems for you to consider for your home protection.
Frontpoint
Frontpoint offers DIY wireless systems that are easy to install. You can also take advantage of their 100% free trial.  Their mobile app allows you to monitor your home from anywhere and you can check on your children or pets through live video wherever you are.
Their alarm systems also give you automated control over door locks, lights and thermostat.
With systems that are 100% wireless and cellular, you can get fire protection, intrusion protection, and home automation all in one.
Smoke and heat monitoring, water and flood monitoring, and carbon monoxide monitoring require separate installation charges.
Frontpoint has no landline or broadband options for those who reside in rural areas.
You can choose from 3 plans that suit your needs and your budget.  The company offers flexible financing plans for your convenience.
ADT
ADT has the longest history when it comes to home alarm companies.  Their most popular package is the ADT Pulse which includes home automation for locks, lights, and garage door, and thermostat from a smartphone.  As its most expensive offering, the ADT Pulse uses Z-wave technology which helps you manage your home security from a personal command center.
It includes fire and smoke monitoring, water detection and temperature monitoring, and carbon monoxide monitoring.  It can also be paired with medical alert and fall detection systems.
ADT systems don't come with DIY installation options and an installation fee is mandatory.
A 36-month contract is required which is standard among many home security companies.  Their plans start at $36.99 monthly up to $58.99 for the ADT Pulse with video.
Protect America
This US-based company also provides alarm security services to Canadian provinces including Alberta, Ontario, Saskatchewan, Ontario, Manitoba, and British Columbia.
It is relatively new in Canada.  It offers 24/7 monitoring, DIY installation, and alarm packages that include free equipment worth $1,400 and no installation charges.  Their plans reportedly start as low as $19.99 monthly.
Their systems use Z-Wave Home Automation technology that allows various devices to work together seamlessly. Customers get free Protect America smartphone app.
Vivint
Vivint is very popular for home automation technology.  It serves many Canadian provinces including Alberta, British Columbia, Ontario, Saskatchewan, New Brunswick, Manitoba, Nova Scotia, and Newfoundland.
Their home automation platform has wireless security and surveillance system that provides homeowners with total control.  Their systems also boast of Echo Thermostat so you can adjust temperature with your smartphone.  The optional Amazon echo voice controller also lets you save time as you multitask at home.
If you aren't into home automation, you might find Vivint a bit pricey.
Link Interactive
This alarm company offers one package and price to keep things simple. Monitoring package costs $35.99 plus $5 for video monitoring.
There is no installation or activation charge. Their wireless system comes with 2-way voice communication, sensors for doors and windows, motion sensors, indoor and outdoor cameras, and glass break detectors.
Systems also come with carbon monoxide detectors, lighting and thermostat control, and garage door control.
You can make things simple by obtaining free home alarm quotes from leading alarm providers in your area.
Ontario Homes Required to Install Carbon Monoxide Alarms
Your home in Ontario is required by law to have a carbon monoxide alarm if you have an attached garage or use fuel-burning apparatus for cooking or heating.
Carbon monoxide poisoning is a huge threat and could cause serious injury, even death.
Modern home security systems include carbon monoxide detectors that can keep your family safe from this poisonous gas.
According to statistics, an average of 11 deaths due to carbon monoxide occur in Ontario alone.
Don't wait another second to protect your family. Find a good home alarm with carbon monoxide detectors for your home.
Elevate Home Security in Ottawa with Ottawa Alarm Companies
Ottawa alarm systems offer complete fire protection, burglary protection, carbon monoxide detectors, and home automation features.
For as little as $1 a day, you can have peace of mind at home and away from home.
Find home alarms in Ottawa with home automation features to enjoy the benefits of a smart home.
A very effective and convenient way to find a good home security system is to compare free home alarm quotes online.
Why Get Alarm Protection for your Home
You have read the many ways a home security system can protect you and adapt to your lifestyle.
Burglary and intrusion are among the biggest threats to our security. Studies show that the risk of burglary is increased 3x in homes without a home alarm system.
Fire and water damage can also happen when you least expect it.  As your home is your most valuable asset, it is important to be assured of timely response to minimize property loss and damage.
Although Quebec and New Brunswick have no regulations requiring carbon monoxide detectors in residences, don't let this stop you from doing the right thing.
Carbon monoxide detectors are essential in every home that has wood-burning or fuel-burning appliances.
Savings from Home Alarm Systems
When you have a professionally monitored home alarm system, you also get the extra benefit of savings.
Home automation features allows you to manage your energy use and thus reduce your monthly electricity bill.
On top of that, you can also qualify for as much as 20% off from your homeowner's insurance.
Peace of mind, convenience, comfort, and savings. These benefits can be yours when you choose the right home alarm system.
Compare Alarms Now and Save Time and Money
Our partner alarm companies offer the most modern alarm systems – from basic residential alarms to comprehensive security solutions including medical alerts, flood monitoring, and home automation.
Take 2 minutes to fill-out this quick online form to receive competitive quotes from the best alarm companies.
These alarm quotes are absolutely free and no obligation.
Get free home alarm quotes to compare and find the right home alarm system for your home today.